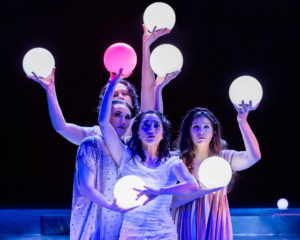 Clockwise from center: Erika Soto, Trisha Miller, Rafael Goldstein, Cassandra Marie Murphy
(all photos by Craig Schwartz)
In 1996, playwright/director Mary Zimmerman adapted some Greek myths from the classic poem Metamorphoses by Ovid. A full production was first done at Chicago's Lookingglass Theatre Company which transferred to off-Broadway in 2001 and moved to Broadway in 2002. It was later restaged at the Mark Taper Forum in Los Angeles. Now Pasadena's classic repertory theatre company, A Noise Within, has mounted a fresh take on the material. At the helm is Co-Producing Artistic Director Julia Rodriguez-Elliott who directed a stunning and memorable production of Zimmerman's Argonautica a few years ago. Although that play dealt with the voyage of Jaron and his Argonauts there was no swimming pool on stage.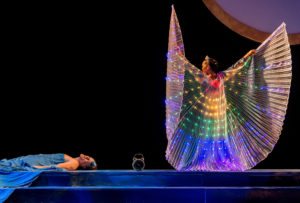 Kasey Mahaffy and Nicole Javier
There is a pool in Metamorphoses and Francois-Pierre Couture's scenic design is front and center as the talented ensemble of nine performers get wet, wetter and wettest as the action takes place around but mostly in the watery centerpiece. Sometimes there are just simple in and out walking through the environment while others, like the tempestuous tale of King Ceyx (DeJuan Christopher) and his attempt to defy Poseidon ends in an all-out deadly storm at sea.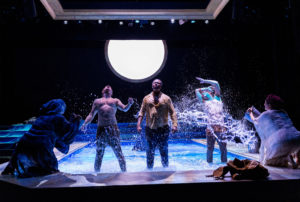 The Ensemble
There are quieter moments like the love stories of Orpheus (RafaelGoldstein) and Euridice (Erika Soto) and Eros and Psyche. There are heartbreaking tales like King Midas (Geoff Elliott), whose greed for gold costs him his young daughter when his golden touch renders her gilded. Then there is the incestuous tale of King Cinyras and his obsessed daughter Myrrha.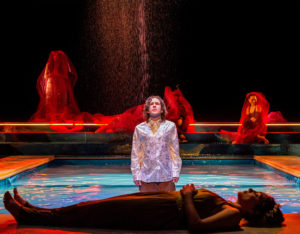 Rafael Goldstein with Erika Soto in foreground
There are also some comic scenes like Phaeton's (Kasey Mahaffy) therapy session wherein he recounts his jealousy of his father Apollo and his golden chariot. He lounges on a flotation device in the pool as he tells what happened the one time that Dad lent him the car.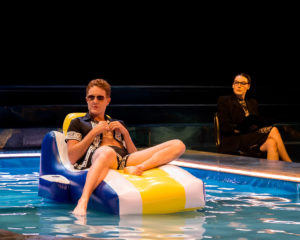 Kasey Mahaffy and Trisha Miller
The entire cast is skilled in their craft. Sydney A. Mason, Cassandra Marie Murphy, Trisha Miller, Nicole Javier and those already mentioned play many characters throughout the 90-minute intermission-less work, at times taking the lead, at other times being the water bearer or mopper-upper.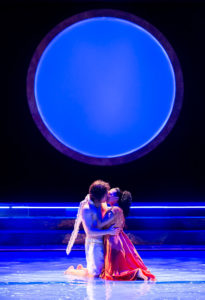 Rafael Goldstein, Nicole Javier
Added pluses include Garry Lennon's mostly modern costumes, Ken Booth's spot-on lighting and Robert Oriol's original music and sound design. Kenneth R. Merckx, Jr. staged the fantastic fight choreography.


www.anoisewithin.org