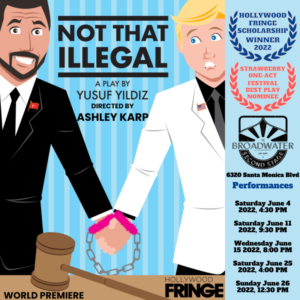 Yusuf Yildiz's Not That Illegal started life as a 15-minute work at the 2019 Strawberry One-Act Festival in New York City where it received a Best Play nomination. Now he has expanded it to a 90-minute one-act at the Hollywood Fringe Festival. It's about 60 minutes too long in its present form. His story is of Ali Can (Yildiz), a Turkish immigrant whose company legally fired him shortly before he was eligible for his Green Card, and his efforts to remain in the USA. Deportation is 30 days away.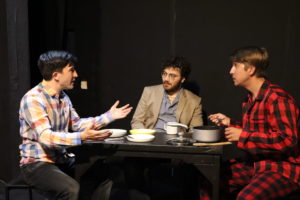 Yusuf Yildiz, Alan Grinberg and Evan Causey
It is true that this is every immigrant's most dominant and realistic fear, but Yildiz has turned it into a sitcom pilot, a failed sitcom pilot. The laughs are few and far between and when they do come, they are very strained. More uncomfortable ha-ha than laugh out loud funny. Ali shares a Los Feliz apartment with his best friend of 12 years, Joseph (Evan Causey), and their hard partying roommate and entrepreneur of just about everything Vito (Alan Grinberg). Ali has $20,000 and a marriage proposal on the tip of his tongue and Vito has lined up a string of loser maybe wives until he meets Joy (Tiara Kennedy), a tailor who wants to be a fashion designer. Ali proposes several times, but Joy turns him down, not wanting to commit anything illegal.

Martin Hardlund, Yusef Yildiz and Evan Causey
After a drunken pity party, Vito and Ali decide that Joseph would make the perfect marriage partner. Except for the fact that they aren't gay, they know everything about each other. A quick wedding at Malibu soon sets them up with an interview with Immigration case worker Mr. Humphrey (Martin Hardlund). Their scene, including a bit of The Newlywed Game, is the show's funniest. It would make a good skit on SNL. When Humphrey's supervisor, Ms. Jackon (Alesha G) appears, the show stops dead in its tracks because of her lackluster performance and whispery line delivery. It takes nearly 30 minutes for the show to finally end with a happy ending for all. Ashley Karp directed.


https://www.hollywoodfringe.org/projects/7339