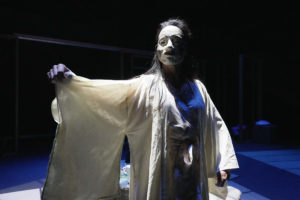 Tomoko Karina (all photos by Jenny Graham)
It has been over 30 years since Velina Hasu Houston's play Tea first premiered. The recent production by Hero Theatre on the stage of the Rosenthal Theater at Inner City Arts proved her writing and characters are as fresh and relevant today as they originally were. Cultural differences and assimilation issues are still hot topics. Houston's five Japanese women were war brides, brought to middle America—a military post in the flat plains of Kansas after the occupation of Japan in the late 1940s. The year is 1968 and although they have been here for over 20 years, these brides still do not feel at home, no matter how hard they have tried.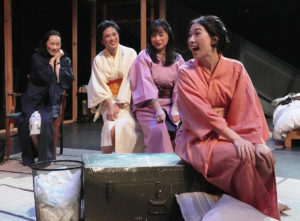 Hiroko Imai, Tomoko Karina, Hua Lee and Olivia Cordell
Himiko (Tomoko Karina) has had the hardest life, living with a redneck husband she killed with his own shotgun two years earlier. Now she has committed suicide, but her ghost still lingers in her house. Four other Japanese war brides arrive to cleanse the home, have ceremonial tea together for the first time, and prepare the way for Himiko to pass on.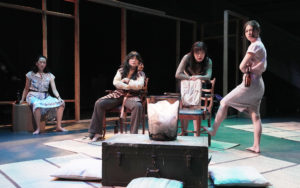 Hiroko Imai, Elaine Ackles, Hua Lee and Olivia Cordell
Atsuko (Hua Lee) attempts to lord it over the other women, thinking herself the queen bee of the local community. But the others are usually able to pull her down off her pedestal. She feels superior because she thinks she made the best match—her soldier husband was Japanese American. Setsuko (Hiroko Imai) married a black soldier and learned of other forms of prejudice. Teruko (Olivia Cordell) married a good-old-boy Texan while Chizuye (Elaine Ackles) had married a Mexican American with whom she established a thriving restaurant.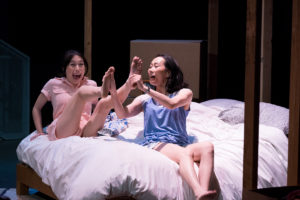 Olivia Cordell and Hiroko Imai
The talented quintet of actresses not only play the middle-aged versions of their characters, but they also play their younger selves in Japan before their marriages, along with comic scenes as their macho, beer-swilling husbands as well as their totally Americanized daughters. They are a great ensemble of talented performers.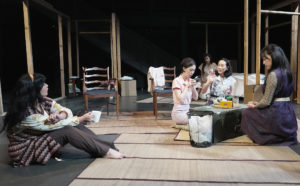 Elaine Ackles, Olivia Cordell,
Tomoko Karina, Hiroko Imai, Hua Lee
Rebecca Wear has deftly directed the quintet and this barely 90-minute one-act passes quickly. She uses the large space and its second level effectively. Carlo Maghirang's scenic design features open walls so we can easily view the action wherever it takes place in the house or their memories. They are aided by Azra King-Abadi's lighting and Dean Harada's music and sound design.


www.HeroTheatre.org.