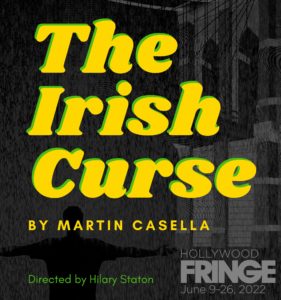 I always thought the Irish were cursed because the Leprechauns were so clever in hiding their pots of gold. It took playwright Martin Casella and a talented quintet of actors to set me right. In his play, The Irish Curse receiving a revival at the Hollywood Fringe Festival, Casella explains that the curse affects Irish menfolk, giving them the tiniest of male reproductive equipment. The five men gathered in the basement of a Catholic church in Brooklyn on a rainy night describe their sexual shortcomings as the size of tiny corn or a cocktail wiener. One man says his is girthy but that scared his female partner into shrieking "where's the rest of it?" Those shrieks sent Kevin Shaunessy (Tony Nassif) into the arms of the church where he has been one of the few straight priests for the past 25 plus years. Father Kevin, along with short and feisty lawyer Joseph (Darwin Lujan), started the self-help group along the lines of AA. Consider this TPA.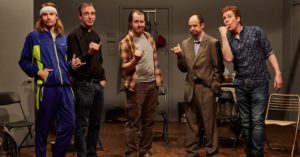 As with any group of males, there is a lot of bragging with few facts to back it up. Rick (Tucker Futrell) is a 22-year-old student, specializing in sports medicine. He has a girlfriend of four years, but he still strolls around town with a loosely rolled sock in his jock, evidently seducing any woman he sets his sights on. Stephen (Christopher Cornish) is a gay cop, giving head all around town to anonymous men he hooks up with. Joseph is divorced and raising two young girls. His wife left him with no notice for a well-endowed lover. However, she did leave him a very detailed drawing of her lover's endowment. Father Kevin has brought a new man to the group, Keiran (Jacob Buras), a roofer working for his family's business and in the USA for four years. Keiran is a virgin and feeling suicidal with his impending nuptials and the resultant wedding night's tiny revelation.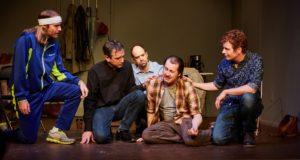 All the men, even Father Kevin, open up and truthfully explain their situations, encouraging Keiran and each other. It's a funny and touching portrait of men in need of support and the support they can give each other. Hilary Staton has deftly directed and her actors each inhabit their role completely. Next time you meet an Irishman, be kind. They are cursed in a very unfortunate way.


https://www.hollywoodfringe.org/projects/7382