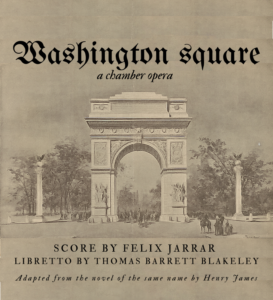 Nineteen century American novelist Henry James did not think much of his novel, Washington Square, about a plain, naïve, sheltered heiress and the strikingly handsome young man who suddenly begins to court her. The work has had a life far beyond what James could ever have imagined. Ruth and Augustus Goetz adapted it for the stage in 1947 starring Wendy Hiller as The Heiress. It has had four Broadway revivals attracting the likes of Jane Alexander, Cherry Jones and Jessica Chastain to the role. In 1949 it was filmed with Ralph Richardson and Montgomery Clift, winning four Academy Awards including one for leading lady Olivia de Havilland. In 1985 Rudolph Nureyev choreographed a full-length ballet to the music of Charles Ives. Mexican and Filipino film adaptations have been made and in 1997 Polish director Agnieszka Holland filmed Washington Square with Jennifer Jason Leigh, Albert Finney, Ben Chaplin and Maggie Smith. In 1976 Thomas Pasatieri adapted it as an opera and in 2013 John W. Lowell published a gay adaptation as Sheridan Square.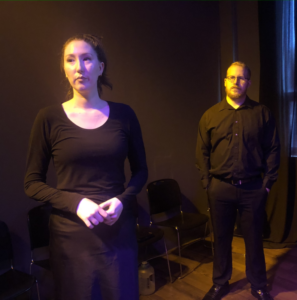 Savannah Greene and David Ingram
Now the youthful team of composer Felix Jarrar and librettist Thomas Barrett Blakely have adapted it as a Chamber Opera premiering at the Hollywood Fringe Festival. Their 70-minute four-hander is presented in a bare bones production with no sets or costumes, using just a few props. The score is the focus here and it is well sung by Savannah Greene as spinster Catherine, David Ingram as her imperious father Dr. Sloper, Athena Beebe as her meddling Aunt Lavinia and Jacob Walters as the wastrel Morris Townsend. Greene's soprano and Beebe's mezzo soprano especially are very lovely.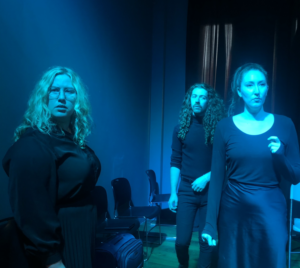 Athena Beebe, Jacob Walters and Savannah Greene
Unfortunately, with Jarrar playing the score on keyboards, the music all begins to sound the same. The one real dramatic piece comes with Dr. Sloper's death scene. The libretto mostly just has the characters telling the story rather than enacting it. Most of the songs are just recitative, not the usual arias, duets, trios or even quartets that could enliven the proceedings. It's a first good draft but needs a more propulsive storytelling approach. Also unfortunate is the fact that the ending of the book is rather anticlimactic and just doesn't compare dramatically to the play and film's shocking rejections of marriage, first by Morris and then by Catherine as she accepts her spinsterhood with renewed vigor. Jarrar also directed and another astute eye might help in shaping the material.


https://www.hollywoodfringe.org/projects/7311