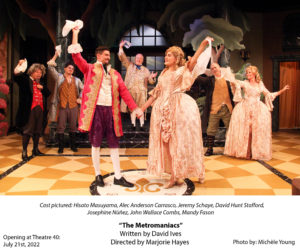 Way back in the mid 1970s, when I was just a few years into my theatre-going and theatre-reviewing career, I made the acquaintance of the lovely Viola Heigi-Swisher, who at the time was the Los Angeles theatre reviewer for the glossy, artsy New York-based monthly magazine After Dark. She was given about a column's worth of space each month to report on all the shows she had seen. I have never forgotten her one-line pithy review of a poorly done new comedy we witnessed together at the long gone and still sorely missed Callboard Theatre. "There were five doors on stage—it must have been a farce."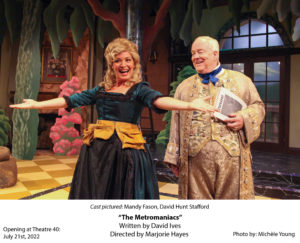 Well, there are five doors in the ballroom set designed by Jeff G. Rack on the stage of Theatre 40 for their current production of The Metromaniacs. And yes, dear readers, it is a farce. Playwright David Ives (Venus in Fur, All in the Timing and many more originals and adaptations) has adapted French playwright Alexis Piron's Le Metronamie. It has nothing to do with subways but all to do with a craze for poetry in 18th Century France. The play is performed in English, in rhyming couplets. The cast of seven is very adept at enunciating the rhymes and delivering the farcical laughs under Marjorie Hayes's tight direction.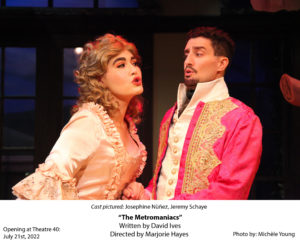 The pompous Francalou (David Hunt Stafford) has written an epic play in rhyme which he is planning on presenting in his Parisian ballroom this evening. His past poetic endeavors have earned him some harsh criticism and he has surreptitiously started having his newest poems published under the pseudonym of a Breton poetess. The young, would-be poet Damis (Alec Anderson Carraso) has fallen madly in love with the mysterious poetess's oeuvre and seeks to court her. His friend, Dorante (Jeremy Schaye), has in the meantime fallen in love with Lucille (Josephine Nunez), Francalou's daughter. Their romantic union seems doomed due to the long-standing blood feud between Francalou and Dorante's father, Baliveau (Hisato Masuyama).
Add in an inebriated, overly amorous valet Mondor (John Wallace Combs) and the requisite saucy and all-knowing maid (think Moliere's Dorine in Tartuffe among others). Here she is called Lisette and played to perfection by Mandy Fason. Stir swiftly and you soon have more than a soupcon of comic shenanigans as everyone pretends to be someone else and confusion and hilarity reign. Nunez plays her Valley Girl persona with spot on modernity. Carraso is larger than life most of the time which suits his character's peacock nature as does Michele Young's sumptuous period costumes. The Metromaniacs is tres drole!

www.theatre40.org