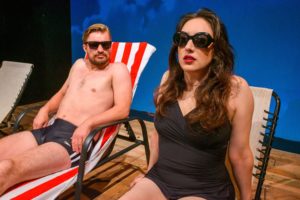 Henry Thompson and Angela Beyer(all photos by Paul M. Rubenstein)
During this long, seemingly endless Heat Wave that has been plaguing Los Angeles for nearly a month, if you did not have central air or a heavy-duty air conditioner, you might have considered a day at the beach. The sun would still be unbearable, but you could cool off in the ocean waves. If you did not mind the sand and sand flies getting into various orifices. Or you could have spent at least 90 minutes in the air-conditioned comfort of City Garage at its beautiful, comfy, intimate space at Bergamot Station in Santa Monica watching a quartet of actors in their swimsuits pretending to be enjoying the beach. City Garage is currently celebrating their 35th anniversary season with the World Premiere of Charles A. Duncombe's Beach People, an existential farce in two parts—Infinite Heat and Infinite Cold. I have never been much into existentialism, but I know a farce requires at least five doors (so a very wise fellow critic told me long ago when I was a young, green reviewer).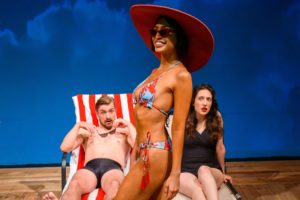 Henry Thompson, Marissa Ruiz and Angela Beyer
There are no doors in Duncombe's simple but effective beachside setting, complete with wet bar and lounge chairs, but no sand (or sand flies). There are some laughs in his tight script, but they are of the gentle, humane type. A couple, Paul (Henry Thompson) and Anna (Angela Beyer), are lounging in the sun. Paul is distracted at times by the vampish stylings of young, bikini-clad Diana (Marissa Ruiz) as she struts and poses in front of the lounging couple. That is about it for the action in the play's first scene.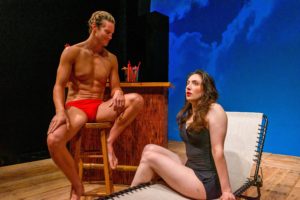 Kasey Esser and Angela Beyer
There is confusion for a while in the second scene as Anna chatters on and Paul answers mostly in grunts, his face buried in his beach read. It appears the couple is in the aftermath of a marital spat, perhaps over Paul's voyeuristic pleasure in watching Anna. The printed copy of the play clearly states that Part 1 takes place Now while Part 2 takes place Before. That simple fact in the printed program could have prevented a lot of non-existential confusion. As it turns out, Part 2 is the "meet cute" scene for Anna and Paul. Anna flirts outrageously, trying to attract Paul's attention with the help of the muscle-bound, red speedo-wearing bartender/matchmaker Rex (Kasey Esser). Duncombe writes long lists of items for his characters' monologues and, at first it seems gimmicky, but eventually you accept it as their normal style of dialogue. The cast, under the tight direction of Frederique Michel, does very well with the lists and the dialogue in general. Best by far is Beyer who excels at speaking the speech trippingly off her tongue.


www.citygarage.org