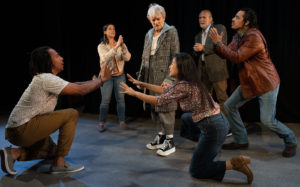 Gerard Joseph, Nicole Erb, Anne Gee Byrd, Lisa Sanaye Dring, Harry Groener, Antonio Jaramillo (all photos by Jenny Graham)

Everyman is a late 15th century morality play that uses allegorical characters to examine the question of Christian salvation and what Man must do to attain it. That text might be a bit too dry and pedantic for today's audiences. In 2017, playwright Branden Jacobs-Jenkins gave it a more modern spin and retitled it Everybody. Antaeus Theatre Company in Glendale is currently presenting the 90-minute dramedy. If morality plays are your thing, you should check it out. The cast of nine features some stand out performers.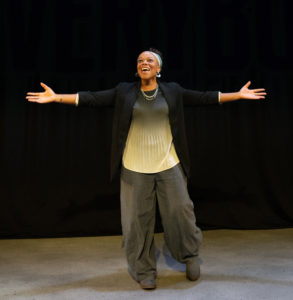 Cherish Monique Duke
In a star-making turn, Cherish Monique Duke as Usher not only takes your ticket and points you to your seat, but she also begins the show with a much more detailed version of "turn off your cell phone, check your emergency exit" which puts the audience in a playful mood. She then morphs into God and delivers a philosophical sermon not just on Christianity but Buddhism and more. As God, she instructs Death (a lively, efficient and businesslike portrayal by Ann Gee Byrd) to bring some people before her to give an account of their lives.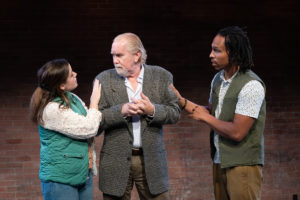 Nicole Erb, Harry Groener, Gerard Joseph
When Death gathers a quintet, they bargain with her to just take one of their number. (Five cast members have memorized the entire script and their roles are chosen by lottery at this point in the show. This reviewer lucked out by having the sublime Harry Groener chosen as Everybody. I am sure the other four actors are equally fine when they are chosen for the title role, but Mr. Groener and I have a long actor/reviewer relationship that goes back nearly 50 years and he has yet to disappoint me.)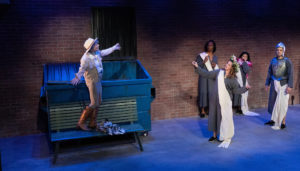 Anne Gee Byrd, Gerard Joseph, Nicole Erb, Lisa Sanaye Dring, Antonio Jaramillo
Instead of immediately appearing before God to give an account of his life, Everybody asks Death to give him a chance to find someone to accompany him. Death relents but Everybody finds that Friendship (Gerard Joseph), Cousin (Antonio Jaramillo), Kinship (Nicole Erb) and Stuff (Lisa Sanaye Dring) all have reasons not to accompany him. Mainly they don't want to die yet. Eventually Love (Alberto Isaac) joins Everybody and along with Death they climb into the dumpster to judgement.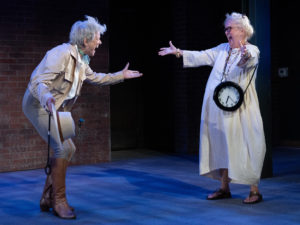 Anne Gee Byrd and Dawn Didawick
Everybody is amusing at times, thought-provoking at times and still a bit pedantic at times. Director Jennifer Chang manages to keep the action flowing smoothly and is aided by her tech compatriots, especially Salvador Zamora's sound design. Dawn Didawick has two brief scenes as a frightened little girl and as a very merry Time.


www.antaeus.org