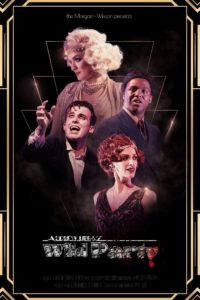 The Wild Party is a book-length narrative poem by John Moncure March published in 1926 and banned in Boston and elsewhere. It told the story of show people Queenie and her lover Burrs, who live in a decadent style March depicts as unique to Hollywood. In 1999-2000 not one but two different musical versions of the poem were part of the New York theatre season. Michael John LaChiusa's version received a Broadway run thanks to the star power of director George C. Wolfe and actors Mandy Patinkin and Eartha Kitt. In 2005, Blank Theatre Company presented their award-winning production on the Hudson Mainstage in Hollywood. LaChiusa's atonal music has always grated on this reviewer's ears and even though there were some fine performances the score did not thrill me, and the plot was unfocused.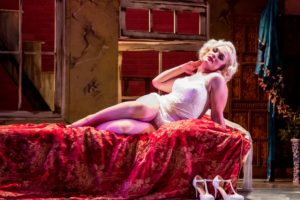 Serenity Ariel Robb as Queenie
Before gaining real star power with her roles as Elphaba in Wicked and the voice of Elsa in Disney's animated Frozen, Idina Menzel and her Rent co-star Taye Diggs led the cast of Andrew Lippa's off-Broadway The Wild Party. Also, earlier in 2005 in Glendale and Long Beach, Musical Theatre Guild did an amazing job with a staged concert version of this standout score that featured the powerful voices of and full-out performances by Eric Anderson, Misty Cotton, David Engel, Beth Malone, Tami Tappan among others. Lippa focused on the love triangle and turned the heat up high. Now the Morgan-Wixson Theatre in Santa Monica has departed from their usual family-friendly fare to present a truly raunchy, decadent and stunning production. If you have never seen this version of The Wild Party, you need to get to Santa Monica before the bathtub gin dries up on October 9.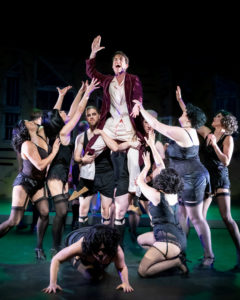 Hamilton Davis as Burrs and the Ensemble
Director Kristin Towers-Rowles and choreographer Michael Marchak set the raunchy tone of the score from the opening notes of Music Director Daniel Koh's tracks. The Ensemble, in their black skivvies, hose and garter belts, resemble the Fosse dancers of the long running Chicago revival as they bump and grind their way through the opening number. Queenie (Serenity Ariel Robb) is a blonde and she dances in vaudeville and although she goes through men like tissues, she can't find the right man to really treat her as rough as she likes her lovemaking. Until she meets Burrs (Hamilton Davis), a vaudeville clown who treats his women rougher than most. It's a match made in S&M heaven for about three years before boredom sets in. Queenie decides to publicly humiliate Burrs in front of a house full of friends and convinces him they should host a party. She is determined to do more than "Raise the Roof". She sees her chance when truly wild party girl Kate (Kaitlin Doughty) arrives with the new and mysterious Mr. Black (Deonte Allen). Soon the four are going at each other and the tension is palpable; the outcome is to be determined.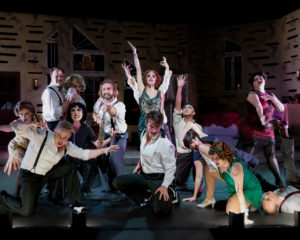 Kaitlin Doughty as Kate and the Ensemble
Davis delivers a dynamic performance—he's one scary clown—and you can't take your eyes off him. He proves to be a real triple threat as singer-dancer-actor and his Burrs really rules this production. His Act One closer, "What is It About Her?" leaves the audience breathless. Robb lacks the belt for Queenie's big, brassy numbers but she has enough style to put them over. She is much more affecting in the quiet, introspective "Maybe I Like it This Way". Doughty really lets her freak flag fly as Kate, a whore who knows it and works it. Her two solos– "Look at Me Now" and especially "The Life of the Party" –are standouts. Allen has the slimmest of characters, but his soft, mellow tones are perfect for "Poor Child" and "I'll Be Here". Lippa has basically written an opera, there is not much dialogue, and he has created some powerful duets, trios and the stunning quartet "Listen to Me" and this starring foursome make sure you hear them.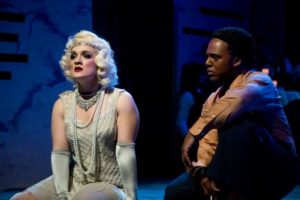 Serenity Ariel Robb and Deonte Allen as Mr. Black
Lippa has also written some comic numbers for some of the supporting characters at the party. Emilia Sotelo as voracious lesbian Madelaine True has fun relating "An Old-Fashioned Love Story" while Spencer Johnson as pugilist Eddie and Mirai as his petite lover Mae make a cute couple as "Two of a Kind". As the mute Jackie, Krystal Combs has a lovely solo dance after the requisite orgy. The Ensemble is in good voice for the group numbers and really move their fronts and behinds for Marchak's dance steps.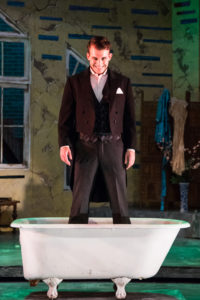 Hamilton Davis
Michael Mullen's spot-on costumes evoke the glamour of the 1920s as well as the bawdiness that ensues at a wild party such as this. Derek Jones's lighting is heavy on the reds, appropriately heating up the action as well as spotlighting a singer when needed. Yelena Babinskaya's scenic design is spare but effectively sets the scene and leaves plenty of open stage space for all the production numbers. Towers-Rowles oversees all the tech and performances, creating a truly mesmerizing and unforgettable piece of theatre. I have a few minor quibbles, but they don't amount to a hill of beans when there is so much to celebrate with this Wild Party.


www.morgan-wixson.org