Taking a break from their usual musical fare, Center Theatre Group-Ahmanson is offering 2:22-A Ghost Story by Danny Robins through December 4. The opening night was November 4, missing Halloween by a few days. Little costumed trick or treaters may have provided more scares than what transpired on stage. The reviewers were given a list of plot items to please not mention in their reviews, the better for future audiences to enjoy the supposed thrills. Stripped of those items, Robins's script is basically two hours of marital discord, no matter how much director Matthew Dunster attempts to jolt the audience. He often succeeds, but it is more due to Lucy Carter's lighting design and especially Ian Dickinson for Autograph's sound design. Otherwise, the writing, directing and acting don't really chill or thrill.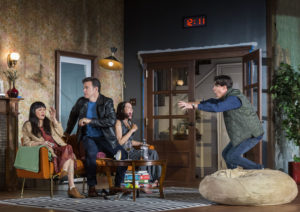 Constance Wu, Adam Rothenberg, Anna Camp and Finn Wittrock
Jenny (Constance Wu) and Sam (Finn Wittrock) are still settling into their new home in a newly gentrified neighborhood of Boston. It's an old house that Sam is slowly tearing apart and rebuilding. The couple is also adjusting to their new roles as parents to an 11-month-old. Incidents the past few nights have convinced Jenny the house is haunted. Precisely at 2:22 she hears footsteps and crying in the nursery. When she checks, nothing is there. Fearing the worst, she calls the police, to no avail, and moves the baby back into her bedroom. Sam has been away for a few days on a business trip but is due home tonight. Jenny has invited his old college chum Lauren (Anna Camp) and her new boyfriend Ben (Adam Rothenberg) for dinner and a stay-up-late to watch what happens party.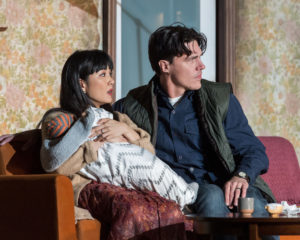 Constance Wu and Finn Wittrock
The acting is fine although it substitutes lots of yelling and screaming for character development. Robins's script could be trimmed by at least thirty minutes and its intermission and provide a tighter experience. As is, 2:22-A :2Ghost Story is an empty sheet awaiting some ectoplasm.


CenterTheatreGroup.org,