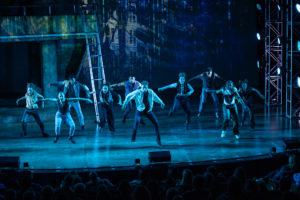 Ensemble (photo by Jamie Pham Photography)
Invincible The Musical is currently receiving its World Premiere production at The Wallis in Beverly Hills. The tagline is "Romeo & Juliet reimagined through the music of Pat Benatar & Neil Giraldo". If it is true that "Love is a Battlefield," then this reimagining of R&J is a bombed-out wasteland. Sort of like the three-story graffiti and bullet-riddled structure that Scenic Designer Arnel Sancianco has created as the backdrop for the mindless action Director Tiffany Nichole Greene has staged.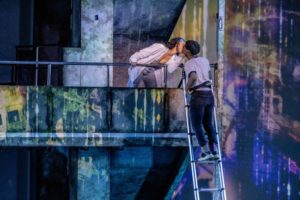 Kay Sibal and Khamary Rose (photo by Sean Daniels/DVR Productions)
The book by Bradley Bredeweg has updated Shakespeare's Verona to a Modern, Post-War city where the time Has Come. He has made the Capulets the power behind the ruling Paris (Brennin Hunt). The Montagues are the rebels still fighting a guerilla war. He has killed off both family patriarchs and populated the city with multiethnic and non-binary inhabitants. He has sparingly used Shakespeare's words—the balcony scene is basically intact—but his own dialogue is nonsensical if not just nonsense.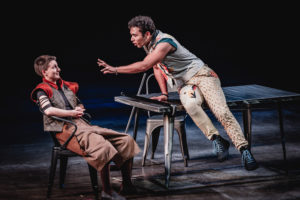 Ari Notartomaso and Aaron Alcaraz (photo by Sean Daniels/DVR Productions)
The Capulet's Masked Ball is a sort of a rave wake for their recently killed patriarch, but it still serves for Romeo (Khamary Rose) and Juliet (Kay Sibal) to meet cute. The rumble, sorry, excuse me, the street fight is between an axe-wielding Tybalt (Josh Strobl) and a pipe or cane weaponed Mercutio (Aaron Alcaraz) that the shield-wielding riot police arrive to late to break up. The Friar (Jon Patrick Walker) is more of a pot-smoking hippie than a religious figure. The non-binary Benvolio (Ari Notartomaso) hooks up with Nura (Julia Harriman), the Capulet's personal assistant, not Juliet's Nurse since the ingenue is now 19.

The Capulet's Rave Wake (photo by Sean Daniels/DVR Productions)
The large cast possesses some strong voices. With their husbands out of the way, Madame Montague (Dionne Gipson) and Madame Capulet (Sharon Leal) lead the way. The latter even gets the 11 o'clock number. The songs sound good but they really don't work effectively moving the plot forward or enriching the characters the way that Bredeweg has shoehorned them into the show. The costumes are a grunge/punk mixture designed by Lena Sands whose major faux pas was putting Juliet in her wedding dress with sneakers on her feet.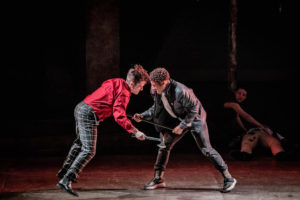 Josh Strobl and Aaron Alcaraz
As my mind went numb watching the mayhem on stage, I was desperately trying to figure out how soon I could manage a marathon viewing of the Zeffirelli Romeo and Juliet (1968) as well as Baz Luhrmann's Romeo + Juliet (1996) along with both versions of West Side Story (1961 and 2021). Hopefully they will heal my soul and ears soon.


TheWallis.org/Invincible