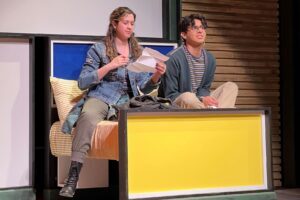 Corinne Miller and Frankie A. Rodriguez (all photos by Ashley Erikson)
Edmond Rostand wrote his classic romantic comedy Cyrano de Bergerac in 1897. According to Wikipedia, the original French play has been translated at least 16 times since then. The most popular translation is by Anthony Burgess who did it once in verse and once in prose. The prose version loses all the lilting poetry of the piece which was demonstrated in a Long Beach production in the late 1970s that starred Stacy Keach and Stephanie Powers. This writer's first experience with the play luckily was in the very memorable 1973 production at the Ahmanson Theatre featuring Richard Chamberlain, Joan Van Ark and Victor Garber as the love triangle. The role has won acclaim and awards for actors as diverse as Jose Ferrer, Christopher Plummer, Gerard Depardieu, Kevin Kline and Steve Martin. The 1950 film version won Ferrer an Oscar while Martin gave it a modern twist and a happy ending in his film Roxanne. Plummer won a Tony Award for a musical version in 1973 and Peter Dinklage starred in a film version of Erica Schmidt's misguided musical version in 2019.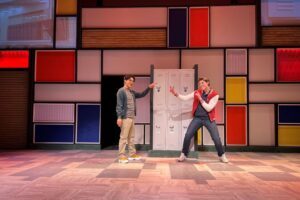 Frankie A. Rodriguez and Jordan Quisno
The latest version to play locally is the 2006 musical Calvin Berger with book, music & lyrics all by Barry Wyner, currently playing at Burbank's Colony Theatre. Wyner has set his misconceived adaptation in a contemporary high school. He has cherry picked his plot points from the original play like he was choosing items off a Chinese restaurant menu—one from column A, one from column B plus an appetizer and a dessert. His plot sets off on the wrong note from the start by giving his Cyrano, here named Calvin (Frankie A. Rodriguez), a best gal pal Bret (Corinne Miller) who pines for him as much as he pines for the seemingly unattainable Rosanna (Jasmine Sharma). The opening number, "Security Meltdown," has Calvin obsessing over his extra-large nose (which is notably missing from the actor's face) and Bret about her large behind. Even Rosanna thinks she has a defect so you can take this as just teenage angst. Except that the script constantly reminds us Calvin is supposed to have a really big nose that makes him unattractive to girls. Last on the scene is new to the high school Matt (Jordan Quisno), who immediately meets and falls for Rosanna and vice versa. Matt can talk to guys but with girls, he just hyperventilates and gets dyslexic in his speech. He enlists Calvin to help him court Rosanna and Calvin agrees, writing poetic notes to pass on. Do today's high schoolers really talk and write in poetic phrases? Aren't their noses, pardon the pun, always pressed to their cell phones? Wyner does manage one cute scene where Calvin recites his lines to Matt who is wearing an ear bud for his cell phone. There are no villains, there is no swordplay, though wrestling is hinted at, there is no war, there is no death. The plot just meanders further on from the original until it mercifully ends with a happy ending for all. It would have been better if Wyner had just written an original plot instead of trying to fitfully adapt a classic.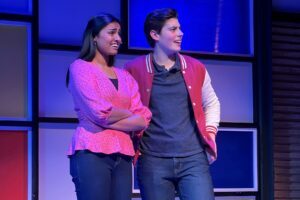 Jasmine Sharma and Jordan Quisano
The cast of four are young, energetic and in strong voice. Quisno proves to have good comic timing with his cocky jock persona turned into a tongue-tied idiot in front of girls. Director Richard Israel keeps the show's momentum flowing nicely. The above the action on-stage band outnumbers the cast by one, and under the musical direction of keyboardist Anthony Lucca makes the score really sound better than it is. The melodies are very one-note, and the lyrics are mostly lame attempts at humor. The show's best asset, besides the hard-working cast, is Alex M. Calle's modular scenic design whose colorful blocks slide out to reveal beds, desks, tables, lockers transforming into everything from school hallways and gym locker rooms to study halls and janitor closets. If only the script had such versatility.


www.colonytheatre.org