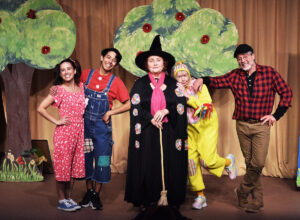 (photo by Garry Kluger)
For my first theatre review of 2023, I ventured out to Theatre West in Hollywood and joined the lively audience for Storybook Theatre's opening performance of Hansel and Gretel. It was my first experience viewing Children's Theatre since perhaps I was a child myself, but I have no memory of such an experience. My first live theatre experience was a retelling of the Passion of The Christ on a field trip to Pittsburgh, PA when I was still in Catholic grade school. The show contained a particularly realistic crucifixion scene with lightning and thunder that had my older cousin, and his mother, hiding behind the seats. The future reviewer in me was fascinated by the light and sound show. Luckily today's children have a much more pleasant way to spend their first viewing of a live stage play, even if the story is one of the grimmer tales told by the Brothers Grimm.
Lloyd J. Schwartz wrote the book (he also directed) and the music and lyrics for eight songs were provided by Hope and Laurence Juber. They are very aware of the age of their audience but don't write down to them, instead they provide easy to understand dialogue and lyrics. When the titular hungry brother (Oscar Nava) and sister (Elise Walters) decide to run away from home so their out-of-work woodcutter father (David Mingrino) will hopefully stop worrying about feeding them, they make sure to tell the tiny tots in the audience not to follow their lead. They tell them they are in a story, and they are sure to get into trouble for what they are about to do.
Their trouble comes in the form of The Witch (Kathy Garrick) and her candy covered house. The Witch keeps trying to get the impressionable audience to let her hijack the show and rename it The Wonderful World of the Witch, but the kids are too smart for her. Garrick has a lot of fun with the role and never really gets too scary or evil. Also involved in the action is a big, befuddling Birdy (Barbara Mallory), mainly to eat the breadcrumbs and advance the plot. There is a happy ending for all with "Family" being the theme and the closing number. The show runs a brisk hour including an intermission halfway through for cookies and punch. The cast (double cast so you may see other actors) is animated and the creators have included a lot of audience participation moments for their energetic and excited young audience.


www.theatrewest.org