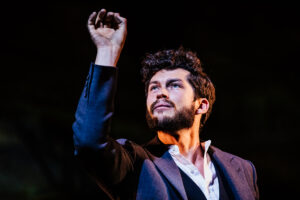 Graham Phillips (all photos by Jeff Lorch)
Stephen Sondheim, who died at age 91 in 2021, is universally acknowledged as one of the American musical theatre's greatest composer/lyricists. Most of his groundbreaking musicals didn't turn a profit when they first appeared, and often did not receive the critical acclaim they later gathered. His style in such musicals as Company, Follies, Pacific Overtures, Passion and Anyone Can Whistle, have been imitated over the decades but never surpassed. Sunday in the Park with George, probably his most personal work, earned him and librettist James Lapine the Pulitzer Prize in 1985; one of only ten musicals to win the prestigious award. The musical deals with the themes of artists and their creative processes in the person of French pointillist painter Georges Seurat, but the lyrics and situations could easily be seen to evoke Sondheim's own life and career.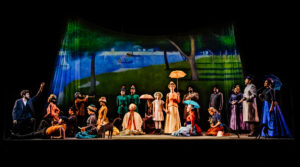 The Ensemble
The Pasadena Playhouse is presenting a five-month Sondheim Festival and their first major offering is Sunday, in a scaled-down version that was originally seen in New York's Encore series of staged concerts that later transferred to Broadway for a short run. Director Sarna Lapine, with all her tech collaborators on board, has re-created the show for Southern California audiences. The masterstroke was using Michael Starobin's original orchestrations for a 13-piece chamber orchestra. The musical score, conducted by Andy Einhorn, sounds glorious, also aided by the pitch-perfect sound design by Danny Erdberg & Ursula Kwong-Brown. The cast of 22, led by Graham Phillips as painter George and Krystina Alabado as his model and mistress Dot, sound heavenly in the group numbers.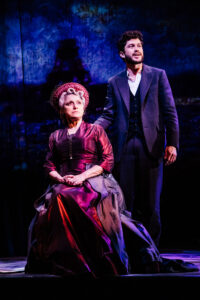 Liz Larsen and Graham Phillips
Act One covers a series of Sundays from 1884-86 on an island in the Seine River in Paris as George draws the various people who will later populate his masterpiece A Sunday Afternoon on the Island of La Grande Jatte. George is so immersed in his work, he can't connect to the people in his life, especially Dot. Pregnant, she finally leaves George for a more financially and supportive relationship. Act Two takes place 100 years later as George's great grandson, a sculptor who creates works of art that are more performance pieces. But after unveiling his seventh in a series in front of his relative's masterpiece, he feels empty and devoid of creativity. A return to the Parisian Island connects him to his past and points him towards his future. Phillips commands the stage as both Georges and Alabado gives a frisky, sensual, comic turn as Dot, and later as her 98-year-old daughter. The supporting cast is strong, and the standout is Liz Larsen as the painter's elderly mother.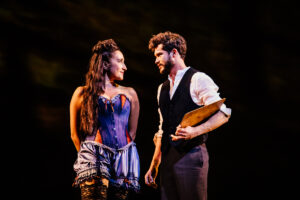 Krystina Alabado and Graham Phillips
Although the musical aspects of the production are top notch, there are problems with the staging by Lapine. The show basically still just feels like an upscale concert version of the musical. Ken Billington's lighting design paints wonderful colors and Clint Ramos's costumes are appropriate. The main problem is Beowulf Boritt's scenic design. There is not much to it—mostly a scrim that acts as a screen for Tal Yarden's projections. The orchestra is on stage and probably takes up at least half of the playing space. Boritt's platform has a few steps up from stage level and it is disconcerting to watch people who are supposed to be in "a small suburban park on an island in the river" keep stepping up and down to enter or exit. The platform can barely hold the entire company and so it just looks overcrowded at times, especially for the Act One finale. Without a hint of scenery, instead of a breath-taking realization of the painting coming together, we just get a crowd of people on a platform. The duet of "Move On" by Alabado and Phillips near the conclusion of Act Two received more sustained and heartier applause than "Sunday" which ended Act One. However, thanks to the talents of the lighting and sound designers, this production had the best chromolume ever seen by this viewer, including in the original one on Broadway. For those few moments near the beginning of Act Two, the Pasadena Playhouse was really turned into a mecca for color and light. Seurat and Sondheim would have liked it!


www.pasadenaplayhouse.org