Frances Hodgson Burnett's The Secret Garden is a classic of children's literature. In 1991 it was turned into a haunting Broadway musical which featured book and lyrics by Marsha Norman and music by Lucy Simon. It was nominated for seven Tony Awards, winning one for its young, spirited leading lady Daisy Eagan, one for Norman's book and one for Heidi Landesman's sumptuous scenic design. Now, thirty-plus years later it has been revived and revised, making its debut currently at the Ahmanson Theatre. It tells the story of the orphaned Mary Lennox, parents killed by cholera in India, and her distant uncle Archie, who lives on the gloomy moors of England and is haunted by the ghost of his beloved wife. The cast is in great voice and Rob Berman's arrangements make the score sound full and lush under the musical direction of Dan Redfield leading the eleven-person orchestra.
The children's rhyme "Mary, Mary, quite contrary, How does your garden grow?" is used several times to taunt young Mary. Unfortunately, her new garden grows quite contrary in this version masterminded by choreographer/director Warren Carlyle. His vision has taken most of the heart and soul out of the story, replacing them with a cold, calculating, sterile approach. Norman has trimmed her award-winning book in an effort to be politically correct. The opening scenes in India are so truncated as to leave new audiences mystified as to what is happening. Dialogue is replaced by a dancing interpretation of "cholera" that waves a red scarf over victim after victim. So much dialogue is missing from Act One, it often seems the show is now going to be a sung through musical. Joining colonial India in the PC Closet are Archibald's hunchback and his son Colin's wheelchair. This just adds more confusion to the plot for first timers since both items are mentioned, just never seen.
The character of Lily (Sierra Boggess) is a ghost from the top of the show, only alive in flashbacks of her courtship and marriage to Archibald (Derrick Davis). Boggess does ethereal floating very well. However, Carlyle overuses his cast of ghosts, having them join in scenes where their presence is not warranted. He even repeats the cholera dance of death for a second time in Act Two for no plausible reason. Worst of all, he gives his ghosts the ability to handle props. At one major point, he has the ghost of Lily pick up her bedridden son Colin (Reese Levine) and carry him out to her garden. Who needs a wheelchair when your ghost mother can transport you?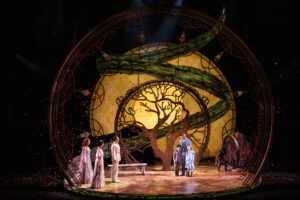 Simon and Norman's score was one of the most glorious to be heard on Broadway in the 1990s. It's still amazing to think it did not win the Tony Award, but its major competition came from Miss Saigon and Once on This Island. However, all three superior scores must have split most of the votes giving the inferior score from The Will Rogers Follies the win. Besides the cuts in the book that limit character development in this new incarnation, two songs have been cut from the top of Act Two. "Quartet" which really gives Neville (Aaron Lazar) a solid motivation for his despicable actions is missing. Most damaging is the removal of "Race You to the Top of the Morning" which gives Archibald a truly lovely scene with his sleeping son. Without those songs, new audiences don't really get the depth of deception practiced by Neville or the depth of affection Archibald feels for his son who robbed him of his wife. Thankfully "A Bit of Earth," "If I Had a Fine White Horse," "Come to My Garden" and "Hold On" are still in the score. The show-stopping "Lily's Eyes" does stop the show once again, this time with Davis and Lazar doing the honors.
Heidi Landesman's award-winning set pieces have been trashed for Jason Sherwood's minimalist scenic design. The stage is dominated, from fly space to floor, by a huge set piece, aptly named "a giant strand of DNA" by my Plus One. It does light up nicely during the storm sequences thanks to Ken Billington and Brian Monahan's lighting design. Other smaller set pieces fly in and out or slide in or out as needed. Considering the bare design of the bulk of the settings, you begin to think the final reveal of the secret garden is going to be glorious. You would be wrong. An arched trellis lowers itself, revealing individual roses stuck in among eight lampposts. Who grows lampposts in their garden?
The trimmed book puts more of the focus on young Mary and Emily Jewel Hoder proves capable of the task. She is rarely off stage and possesses a strong stage presence to go along with her strong singing voice. Aaron Lazar also impresses as the embittered Dr. Neville, giving his villainous character a strong passive-aggressive shading. Although the cast do not get much help in creating memorable characters, they do possess the chops to make the score soar. Besides Boggess and Davis, Julia Lester and John-Michael Lyles shine.


CenterTheatreGroup.org
Tickets to this show and 75+ additional productions starting at $20 are available now during LA Theatre Week. https://www.theatreweek.com/los-angeles/