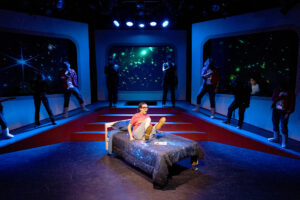 (all photos by Jenny Graham)
Starmites, music and lyrics by Barry Keating with a book by Keating and Stuart Ross, premiered on Broadway in 1989. It only had a 60-performance run but it picked up six Tony Award nominations. I remember seeing it on Tony Awards-day and meeting with some cast members while they dined before performing on the televised awards show. Open Fist Theatre Company in Atwater is currently presenting a lively production that really rocks the intimate space.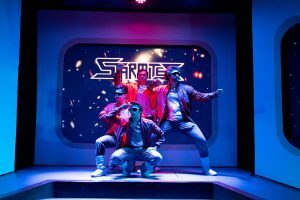 Starmites
Starmites was not the first comic book to Broadway musical; It's a Bird…It's a Plane…It's Superman was decades earlier, but it sure was and still is fun. Director Scott Peterman and his cast keep the energy level on high as they power through this Earth Girl meets Space Punk to defeat Shak Graa and save the universe plot nonsense. Eleanor (Talia Gloster) is a teenager living vicariously through her Starmites comic books until her not-quite-understanding mother (Cat Davis) auctions off the comics on eBay. Then Eleanor finds herself in Innerspace as Milady, the savior the Starmites have been waiting for. Eleanor and Space Punk (Bradley Sharper), along with his crew (Alex Hogy, Rieves Bowers, and Jasper Wong), first encounter Trinkulus (Brendan Mullally) who warns them the villainous Shak Graa (???) is out to recapture the Cruelty and destroy Earth. They enter the spooky woods and encounter the Banshees (Sophie Oda, Lindsey Moore Ford, Elle Engelman and Sarah Martellaro) the henchvixens for Diva (Davis again). The Banshees love to dig their long claws into Starmite boy flesh, and the fun fights begin.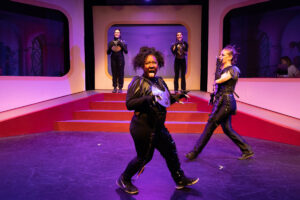 Banshees
There is a prophecy to fulfill—Diva's shy, unattractive daughter Bizarbara (Gloster again) must marry, and she chooses Space Punk, and he eventually agrees even though he has fallen in love with Eleanor. Some hocus pocus and a few songs and dances later, Shak Graa is defeated, the lovers are reunited, Earth is saved and Eleanor's mother returns the precious comic book collection. There is a lot of fun to be had along the way to the finale.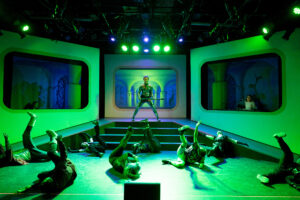 The songs range from hard rock to bubblegum pop with some doo wahs thrown in for good measure. Nothing quite sticks with you but is pleasant on the ears while in the ether. Musical director Jan Roper rocks out on keyboards as she leads the on-stage band. Becca Sweitzer has added the dance moves, especially with the standout "The Cruelty Stomp". Linda Muggeridge had fun with the costumes, especially for the somewhat slutty Banshees. Gavan Wyrick gave great light as did Kurt Vanza with sound. Peterman's projections are really out-of-this-world state of the art and gives Starmites the comic book look it needs.


www.openfist.org