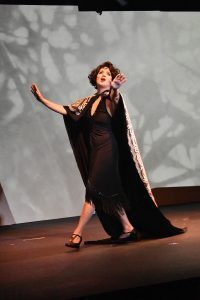 (photo by Gary Kluger
Alla Nazimova was one of a kind. Mostly forgotten now, she was a force to be reckoned with in the early days of the film industry—that is Silent Movies. The Russian-born actress, coming off her Broadway successes, negotiated her own contract with Metro Pictures in 1917 that paid her $13,000 a week in the era of no income tax. She made a ton of money for Metro and for herself, often writing and directing her films using male identities since those jobs really weren't for women in Hollywood's thinking at the time. There is an Alla Nazimova Society which is dedicated to the preservation and promotion of the artistry of this extraordinary woman. Actress/writer Romy Nordlinger has created a one-woman show Garden of Alla: The Alla Nazimova Story. Behind the Bar Productions has brought the show to Theatre West for a very short three-week run. If you are a Nazimova fan, or if you have never heard of her but think you want to become one, don't miss this production.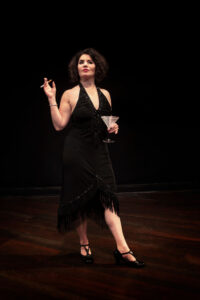 (photo by David Wayne Fox)
The production owes a lot to the video design & key art of Adam Jesse Burns and the score and sound design of Nick T. Moore. But it is Nordlinger's acting that takes center stage, playing Alla from child to star, often playing scenes opposite other characters such as her abusive father and Broadway producer Lee Schubert, under the tight direction of Lorca Peress.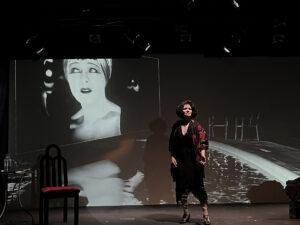 (photo by Lorca Peress)
Nordlinger the writer has done a great job of researching Nazimova's life and career. The joy of experiencing her play is discovering the woman who became the Silent Screen Legend. Alla, born Marem-Ides Leventon in Yalta in the Crimea area of Russia, was a child prodigy violinist. But she longed to be an actress and studied with Stanislavski at the Moscow Art Theatre. He never thought she would amount to much and cast her in small roles. She eventually made it to New York and after learning English in six months, became a bonafide Broadway star, playing the classic heroines of Ibsen and Chekhov. The Schuberts even gave her her own theatre, the Nazimova, on 39th Street. Capitalizing on her reputation, she made the move to Hollywood and the rest is legend.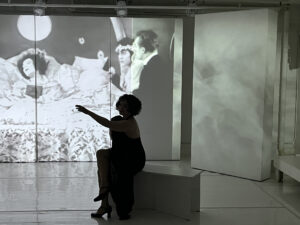 (photo by Lorca Peress)
She starred opposite Rudolph Valentino in a modern-day version of Camille and her "art film" version of Oscar Wilde's Salome may have been a financial disaster at the time, but is in the National Film Registry. After she became box office poison, she returned to the stage and toured the country doing the classics.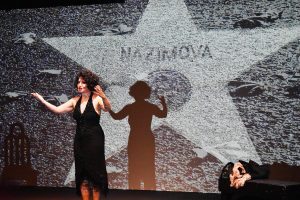 (photo by Gary Kluger)
Besides her films, Nazimova is famously remembered for turning her Sunset Boulevard mansion into a hotel with 25 private villas on the 2.5 acres at Crescent Heights Boulevard. It became the Hollywood address for writers such as F. Scott Fitzgerald, Dorothy Parker, Robert Benchley as well as celebrities such as Tallulah Bankhead, Orson Welles, Humphrey Bogart, Ginger Rogers etc. It also became known for its drunken Saturday night parties as well as its women-only Sunday sewing circle get togethers. Although Alla had a few husbands, she mostly preferred to play with her own sex. Besides bedding both of Valentino's wives—Jean Acker and Natacha Rambova– she counted actress Eva La Gallienne and director Dorothy Arzner as her bedmates. She lived her life as she wanted, and her legend lives on. Once again, don't miss Garden of Alla during its short stay in Hollywood. You will be titillated as well as informed.


TheatreWest.org