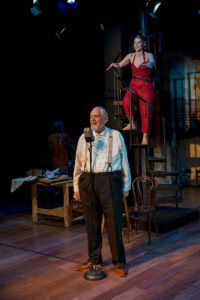 Peter Van Norden and Elinor Gunn (all photos by Frank Ishman)
"We are such stuff as dreams are made on" says the magician character Prospero near the end of William Shakespeare's The Tempest, one of The Bard's final plays. Antaeus Theatre Company is currently presenting a dream of a production at the Kiki and David Gindler Performing Arts Center in Glendale. The play as written contained a lot of musical moments as well as storm and fury. It was director Nike Doukas's inspired notion to stage the work as a radio play. The actors use hand microphones as well as standing mics as they make their way through the story of the deposed Duke of Milan, his teenage daughter and his two servants, one a helpful airy sprite, one an embittered monster. Jeff Gardner's sound design as well as the foley design by him and Doukas are the real stars of the production.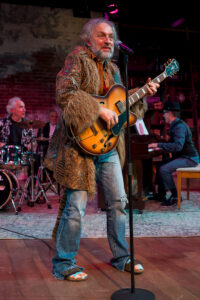 John Harvey, JD Cullum and John Allee
The audience enters the theatre to encounter the ten-person cast in the middle of a raucous jam session—John Allee on piano, JD Cullum on electric guitar and John Harvey as percussionist leading the way. The action begins with a storm at sea that shipwrecks Prospero's enemies on his island and the sound effects here are of hurricane proportions. The only element missing is a heavy spray of water to wet down the miscreants. Prospero's (Peter Van Norden) invisible helpmate, Ariel (the delightful Elinor Gunn who gets to display a lovely singing voice on several tunes) separates the various groups of survivors. John Ballinger composed the original music.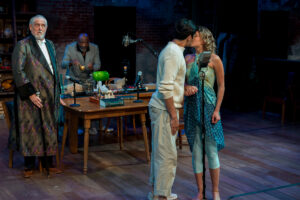 Peter Van Norden, Peter Mendoza and Anja Racic
Prospero's first task is to get his 15-year-old daughter Miranda (Anja Racic) and the King of Naples's son Ferdinand (an energetic and charismatic Peter Mendoza) to fall in love. No magic needed there as the two fall in love at first sight. Sebastian (Allee), brother to Alonso (Adrian LaTourelle) King of Naples, plots with Prospero's usurping brother Antonio (Bernard K. Addison) to kill the King and take his throne when they assume Ferdinand has drowned.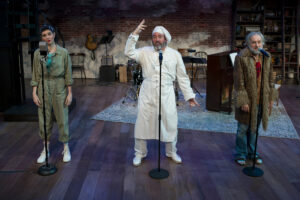 Erin Pineda, Adrian LaTourelle and JD Cullum
The hate-filled monster Caliban (Cullum) drunkenly plots with the King's hard-drinking butler Stephano (LaTourelle) and the King's jester Trincula (Erin Pineda) to exact his revenge by killing Prospero while he sleeps. This trio is the real comic highlight of this comedy, deftly delivering the laughs. Saundra McClain adds solid support as Gonzala, a faithful supporter of Prospero who is glad to see him restored to his position by the play's end. The only real misstep was the double casting of LaTourelle which leads to confusion at the finale when he doffs the King's jacket and adds a chef's hat and vice versa as the two characters confront each other.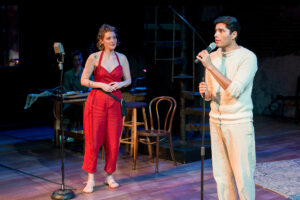 Elinor Gunn and Peter Mendoza
Fun is the name of the game here and it is hard not to keep a smile on your face (behind your Covid mask) as you watch this merry band of actors cavort. To quote Miranda, "O brave new world, that has such people in't."


www.antaeus.org