Often when I see the World Premiere of a play in our local theatres, I will read in the program that the play was the winner of the so and so playwriting award. Then often after sitting through a very dispiriting piece of theatre, I begin to wonder who judged that contest or better yet, if this was the best entry what the others were like. I am happy to report that The Red Suitcase by Jiggs Burgess, which won Best Play in the inaugural Del Shores Foundation Writers Search, does not fall into that dubious category of winner? Really? The play by the Texas playwright is receiving its World Premiere at the Broadwater Mainstage Theatre, produced by P3 Theatre Company.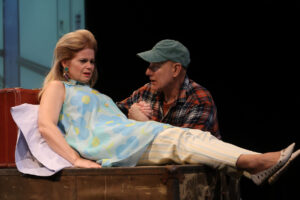 Kristen McCullough and Bruce Melena (all photos by Dlugolecki Photography)
In his program notes, the playwright says his basic answer to the question "What's it about?" is "it's simply a story about a father/son relationship". It is that and so much more. Hillary Clinton once wrote that It Takes a Village to Raise a Child and Burgess proves that point flawlessly in his funny, dramatic, cathartic and deeply moving play. The first twenty minutes or so are a rollicking laugh riot as a very pregnant April (Kristen McCullough) wants this seemingly long-gestating child out of her womb. Her husband Bud (Bruce Melena), along with family and friends, try all the tricks including car rides down bumpy roads, standing her on her head, visiting a psychic who is mystified and tells her she is having a boygirl or a girlboy and is not sure what that means. When she is accidentally touched by a snake in their new home, Grandmother (Charlotte Louise White) announces that the child will be "tetched" which might mean just about anything from being special to needing special care. This outrageously funny section ends with a stillbirth and then a miraculous resuscitation by a nurse who just learned infant CPR. The doctor advises the parents not to fill out the birth certificate because it will be easier to place the child in a special hospital if it has no history. So, it is not until Pogue (Emerson Collins) enters kindergarten that his birth is officially certified.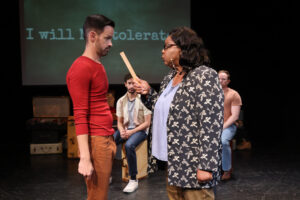 Emerson Collins, Tiago Santos, Pam Trotter and Mat Hayes
Pogue relates the tale of his life story theatre style with the help of Mat Hayes, Tiago Santos and Pam Trotter who play various characters who come in and out of his life. Burgess's language is poetical at times, reminiscent of other Southern writers like Tennessee Williams, Truman Capote, Carson McCullers, William Faulkner etc. As an audience member, you fall under the spell of his words and the story being told. It's not always a pleasant story. Although there are still some comic moments, such as Uncle Doo Doo (Hayes) scaring the poor boy with tales of a monster in the muddy riverbank, the story turns very serious, and you wonder if Pogue will make it to adulthood in this backward Texas environment. His father is strict and quick with the belt, making Pogue look up the chimney for Santa Claus while being whipped, giving the boy a lifelong hatred of dear Mr. Claus. A fearsome schoolteacher (Trotter), complete with a Cruella De Ville white streak in her hair and a disposition to match, is a female counterpart to Pogue's father, dishing out punishment daily.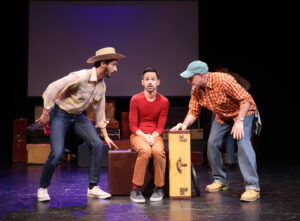 Tiago Santos, Emerson Collins and Bruce Melena
Pogue does have a few bright spots that help him keep going. Besides the stray dog he adopts, there is Martin (Santos) the kindly illegal immigrant who helps on the farm for part of the year. Pogue comes to think of him more as his father than his real one, but Martin has his own family back in Mexico and eventually stays there with them. His grandmother sees a lot of her own youngest son, Robby, in Pogue. Robby came to a tragic end because of the abuse he was hammered with. Grandma hopes the same fate does not await Pogue. She tries to toughen him with the example of the giant oak tree in her yard that goes back generations and is still standing strong, no matter what it has had to weather. For a brief moment at age 10, Pogue had Charlie (Hayes) in his life. Another gay boy with whom, innocently at that age, he bonds with and kisses which gets them in a heap of trouble.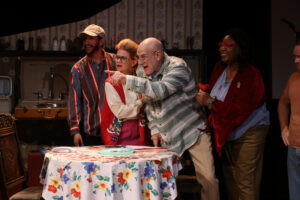 Tiago Santos, Kristen McCullough, Bruce Melena, Pam Trotter and Mat Hayes
Pogue eventually does reach adulthood and leaves Texas for Brooklyn where he becomes a writer. In a deftly drawn scene of weekly phone calls home, Burgess shows how his alienation eventually results in a reconciliation with his family, most especially his father. Finally, Pogue becomes the responsible adult in the relationship and his father accepts him as he is. It is a touching end to a wonderfully drawn portrait of a family that many have experienced, then and still today.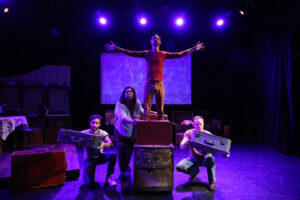 Tiago Santos, Pam Trotter, Emerson Collins and Mat Hayes
Jesus Hurtado must have emptied every thrift store in the Hollywood area of their suitcases to create his scenic design. The myriad shapes and colors function as everything from school desks to car seats to hospital beds to gardens. Director Del Shores for the first time directs a play he has not written but these characters are kissing cousins to his own sordid and Southern Baptist characters he has created over the past decades. There is crazy and then there is East Texas crazy. He elicits well etched characters from his talented cast. There isn't a wasted moment or movement. Emerson Collins commands the stage with his performance. You believe him just as surely as a three-year old as you do a thirty-year old. His Pogue breaks your heart and then carefully puts it back together. The other six performers create a strong ensemble to back him up. One small note: it would help if White projected a bit louder. Her character of Grandma provides a lot of good advice and comments, but you often have to strain to hear her.


https://p3theatre.biz/theredsuitcase