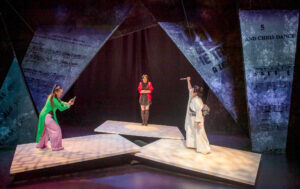 Zandi De Jesus, Rosie Narasaki and Julia Cho (all photos by Gretel Cortes Photography)
Playwright Preston Choi turns Asian female stereotypes in pop culture for a loop in his World Premiere comedy This Is Not a True Story at the downtown Los Angeles Theatre Center. It's a co-production of Artists at Play and Latino Theater Company. Choi imagines what happens when the heroines of Puccini's Italian opera Madama Butterfly and Shonberg/Boublil/Maltby's rock opera Miss Saigon meet with a modern-day urban legend turned film subject Kumiko, The Treasure Hunter. It's nearly a laugh a minute as we watch these three women grapple with their myths and their destinies.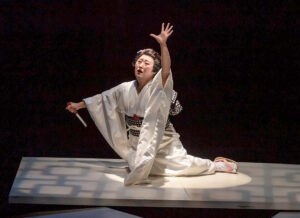 Japanese geisha CioCio (Julia Cho) appears first, beginning at the end of her opera with the traditional hari kari suicide. She finds herself in a loop, reliving the details of her opera over and over again, performance after performance since its premiere in 1904. She is alone on stage until 1975 when the tragic tale of a virginal Vietnamese bar girl and her American G.I. lover begins. Kim (Zandi De Jesus) appears, gun in hand, ready to commit suicide so her young son can have a better life in America. The two women bond over the similarities in their fates as they constantly repeat their stories in this limbo or hell they find themselves in.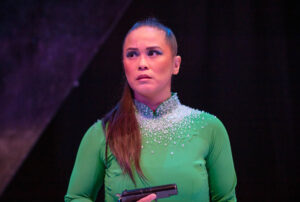 It is not until the real-life Takako (Rosie Narasaki), a despondent Japanese woman who followed her married American lover to North Dakota and committed suicide, shows up that things begin to break down. Takako's urban legend was turned into a film in which the now renamed Kumiko believes the film Fargo was a true story and went to North Dakota to find the buried suitcase of money. Instead, she froze to death. Being more realistic, Takako/Kumiko points out the racial stereotypes of the other women's characters. CioCio is 15 while Kim is 17 so their American lovers were pedophiles. Neither can read or write. Both chose suicide as the only way to give their sons a better life. Soon the three are rebelling against the omnipresent voice that chastens them when they go off script. Besides having to end their lives with ceremonial knife and Army pistol repeatedly, another funny bit of business is the birthing of their babies. That scene is also constantly repeated, and their newly swaddled babies arrive in a variety of methods–found under the set, dropped in from the flies, swung in from the audience. Their eventual disgust and mothering skills will never earn them Mother of the Year citations.
Reena Dutt has tightly directed the action on Yuki Izumihara's platformed setting. She gets detailed performances from her cast and Cho and De Jesus really bring their tragic figures to life. Kumiko is the least developed of the three characters even though she is based on a real person and the other two are fictional. Her story is less well known and has not been embedded in our cultural history for decades. M. Glenn Schuster's sound design in another character in its own right. Choi has crafted a wonderful new comedy that makes you think differently about the racial stereotyping of our classic literary characters.


www.latinotheaterco.org