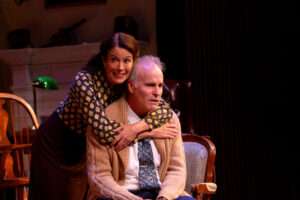 Jill Remez and Geoffrey Lower (all photos by Kayte Deimoa)
Ira Levin was a novelist best known for Rosemary's Baby. He also wrote The Stepford Wives and The Boys from Brazil among others. He was also a playwright known for the comedies No Time For Sergeants and Critic's Choice. In 1978, he combined his two writing fields, creating Deathtrap, which ran for 1,793 performances for over four years, and is still the longest running comedy-thriller in Broadway history. For the final production of its 2023 season, Long Beach's International City Theatre has mounted a lively and fun revival. Although the play is very popular, it has rarely been done in the Los Angeles area. This reviewer has only seen the 1979 National Tour. It was really an enjoyable treat to witness it live on stage again.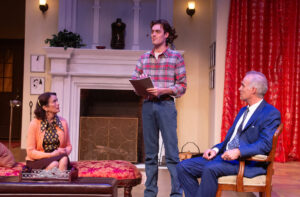 Jill Remez, Coby Rogers and Geoffrey Lower
Sidney Bruhl (Geoffrey Lower) is a struggling playwright of mysteries. His big hit was The Murder Game but that was 18 years ago. He has had four famous flops since then. He lives with his wife Myra (Jill Remez) in a converted barn on nine acres in Westport but their money is running out. Sidney has been suffering writer's block for some time when he receives a surefire murder mystery hit in the mail from a former student at one of his college seminars. Sidney would kill for such a perfect script. Myra, who suffers from a weak heart, is increasingly worried about Sidney's malicious plans. Sidney calls the student, Clifford (Coby Rogers), and when he finds out no one else has read the script and that the two of them have the only copies, he invites Clifford out to his secluded house for some helpful hints. Boyish and innocent-looking, Clifford not only has brought the original of the script but all his outlines and notes. Sidney's eyes get more maniacal as Myra's get more frightened by the possibilities.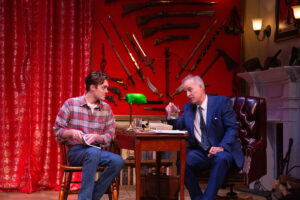 Coby Rogers and Geoffrey Lower.
Myra reminds Sidney that the famous Dutch psychic Helga ten Dorp (Michelle Holmes) has taken residence in a neighboring cottage for six months while she writes a book about her exploits helping the Dutch police solve murders and find missing people. Helga does pay a surprise visit and feels lots of pain in the Bruhl household, especially when it comes to the wall of antique weapons, including axes, crossbows, knives, guns and maces, Sidney has proudly collected. There are many twists and turns to come in the two-act, six-scene play but you will get no further info from this writer. If you are unfamiliar with the material or can't remember the details of the 1982 movie, you owe it to yourself to experience the chills and thrills for yourself.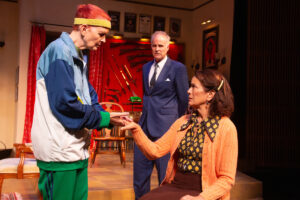 Michelle Holmes, Geoffrey Lower and Jill Remez
Playwright Levin had a lot of fun sending up the tropes of the murder mystery thriller in his script and director Jamie Torcellini and especially Lower really deliver the laughs. The thrills are nicely staged and those new to the piece appropriately jumped in their seats at the correct moment. The cast (Patrick Vest appears as Sidney's lawyer) fill their roles with the required panache to pull off all the twists. Fred Kinney's finely detailed scenic design really gives the action a background to play against. Crystal Shomph's lighting design, near total blackout at times and deeply shadowed at others, helps set the mood. Deathtrap is deadly good fun.


www.internationalcitytheatre.org