Interview: Kerry Butler
Well, dear readers, welcome to our brand spanking new handy-dandy The Unseemly Interview Section, where we shall have Unseemly Interviews for your perusing pleasure.
For our very first interview we turned to the wonderful Kerry Butler, star of Bat Boy and the upcoming new musical, Hairspray. Kerry graciously took time out of her busy schedule to answer some very tough questions. I was merciless and by the end of the interview she tried to impale me with a danish. I told her that I only wanted to be impaled by a swedish or, as a last resort, an amish. Kerry looked stunning as we sat down at our various and sundried keyboards to conduct the interview.
Bruce Kimmel: Hello there, Kerry Butler. Let's start off with Hairspray. First of all, do you use hairspray in real life?
Kerry Butler: Hello! I actually rarely use Hairspray- I go au natural. Don't tell anyone though. No one actually reads these interviews right?
BK: Are you kidding? We have more Hainsies/Kimlets than you can shake a stick at. Actually, I shook a stick at them the other day – it was fun. Tell us how you became involved with the show. Was it the usual plethora of readings and workshops? How long has it been in development? Are you having fun? What has the audience reaction been? The critical reaction?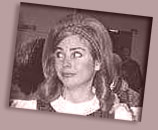 KB:This was the easiest Broadway show I ever got! I only had to sleep with–uh, I mean…No seriously, before I auditioned,there had been three previous readings of Hairspray over two years. At the last reading, Penny had been cut out. John Waters was like, "Are you crazy ? You can't cut Penny!" So they held auditions, I sang one song from my book, read maybe five lines,and got the reading. They told me at the reading that they definitely wanted me in the show. This production has been so much FUN!!! The audiences go crazy at the end. I have never felt such a wonderful response from an audience. Critically they compared us to the Producers–not too shabby!
BK: Let's talk a little bit about some of the other shows you've done. You did Beauty and the Beast for quite a long time, didn't you? Weren't you in Canada first and then on Broadway with it? Who was your beast in Canada? How many beasts did you do the show with in New York? Did anything strange ever happen during a show – things not working, something going awry? Since we like dirt here at haineshisway.com, did you think any of the beasts were really beasts? When you take over a show like Beauty and the Beast and step into a role which you haven't created, are you allowed to bring your own stuff to it, or do they make you pretty much do what's been done?
KB: Yes, I did Beauty and the Beast for a long time!!! Too long!! I knew it was time to go when I started forgetting my lines because I was going over my grocery list. My Beasts were Chuck Wagner and Jeff McCarthy. I loved them both. They both did wonderful jobs, and were very different! Strange things happened all the time. My favorite was when the inanimate objects would fall over and not be able to get back up because they didn't have any hands. Another time, the Beast couldn't transform (the magic wasn't working), and Chuck did a beautiful expressive sort of dance as the transformation… and the audience clapped. They had no idea he was suposed to float in the air and twirl. As for me making it my own, they encouraged me to do that! My Belle was very different than the previous Belles. We had a whole new production in Toronto, so all of us found our characters together. Of course that was within reason- it is Disney after all.
BK: Bat Boy certainly had a fanatical following didn't it? Given that the audience reaction was so positive and you had people returning to see it many times, why do you think it didn't last longer? It seems that off-Broadway is as hard as Broadway now, if not harder, to come up with a long-running hit. Really, I Love You, You're Perfect, Now Change, and maybe that Naked Boys Singing. Why do you think it's so hard to get audiences to off-Broadway. Do you think it has to do with the location of the theater? With publicity and getting the word out?
KB: I think it had to do with the location. We were really building an audience before Sept. 11. And after that we never recovered. People didn't want to go out at all, let alone downtown.
BK: So, how was it doing Bat Boy? You seem to have an affinity for playing opposite beasts and bats. Who are you playing opposite in Hairspray?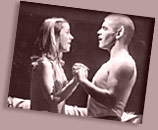 KB: Bat Boy was a lot of fun!! People still stop me on the street and do the Bat Boy dance for me. In Seattle there were alot of Bat Boy fans who had never even seen the show. They just loved the recording! People have said that to me before about loving the beasts. But I am breaking the cycle with Hairspray, my love in Hairspray is the handsome Corey Reynolds! Although maybe my thing is going against society. You know Penny was way ahead of her time. It was scandalous to be in an interracial relationship. So perhaps I just like breaking through those barriers. It's all about love, man. Love makes the world go round. All you need is love… Sorry I got a little carried away.
BK: Shush now, people will say we're in love, and I will not deny it, I will shout it to the highest hill, yes, we have a secret love but our secret love is true love and if they don't like it, if they don't like our love, look away is what I say. What the hell am I talking about? Where was I? Oh, yes – Have you been doing any film or television, and is that something you aspire to?
KB: I have been doing film and television. I actually like that more than stage- I know I'm crazy! I like the variety. Doing the same show night after night starts to make you feel like you are in the movie Groundhog Day.
BK: If you could have your pick of a revival and a role to play, what would it be and why?
KB: I would love to play Mrs. Johnston or Linda in Blood Brothers. I understudied Linda, and never got to go on. I feel incomplete. Mrs. Johnston for obvious reasons, it's one of the best female roles out there.
BK: Do you prefer fun musicals like Hairspray, or would you like to do one of those "arty" things, like Mr. George C. Wolfe's The Wild Party?
KB: I don't have a preference really. Well that's not true I prefer that it is good. I love doing Hairspray, but I'm sure when my year is up, I'll be needing to emote on stage.
BK: When you were growing up, what got you hooked on musicals? What was the first professional job you had in the theater?
KB: When I saw Annie it was all over. I knew that was what I wanted to do. I actually auditioned for Annie, came close and didn't get it. But it was good, it taught me how to deal with a life of rejection. I'm not bitter…Losers! My first professional job in theatre was performing with a bunch of child actors in "Youngstars". We sang for our dessert!
BK: A favorite topic here at haineshisway.com (in addition to cheese slices and ham chunks, our favorite party foods) is cake. What is your favorite cake?
KB: I love cake! My favorite would have to be Carvel ice cream cake- with the crunchies in the middle! But my favorite dessert is chocolate chip cookies!
BK: Have you ever danced the Hora and if not would you be willing to learn if we have a haineshisway.com party? Would you be willing to wear a pointy party hat, colored tights and pantaloons and have shrimp bits on toast. I know you find these questions a bit weird, but our dear readers do like to know these things, and they tend to bitch-slap me if I don't ask them.
KB: I have not danced the Hora but would love to try. It looks like fun. I love to dance (although I'm not very good at it). People say to me, "how do you make Penny look so spastic, she's such a bad dancer?" I say "years of training and studying others", meanwhile I am such a Klutz. This is the easiest role for me. Anyway, back to your party, you know I also throw many dance parties. My dance parties are fun because you never know when they will happen. Could be first thing in the morning could be in between shows. But they consist of loud music and jumping around. At my party we don't wear the colored tights and pantaloons, but we have been known to wear our pajamas. I'll wear the pointy hat to your party if you'll wear your pj's to mine.
BK: I will wear my short shorts pajamas with the little bunny on the butt. Won't that be exciting? Won't that just be too too? Are the creators of Hairspray putting in changes to the show based on the reaction during this tryout? Will there be a further rehearsal period in New York, or do you go directly into a theater? At the opening night party do you think they will serve cheese slices and ham chunks?
KB: They are changing things based on how they worked on the audience. We were constantly trying new joke lines. We are in rehearsals now, and they are changing bigger things- like a new song. One can only dream that at the party there will be cheese slices and ham chunks! I don't actually eat ham, but it could be fun to stack the chunks and make a ham house.
BK: Yes, a halfway ham house for errant and truant hams. I like that. We will take that under advisement, whatever the hell that is. Has it been fun being out-of-town trying out a show or has it been trying being out-of-town trying out a show? You can tell us the truth.
KB: It has been too much fun! Seattle is a great city. And being away brought the cast closer together. We all got along so well, that we were constantly going out. I don't think I've ever gone out that much! It was also good for the show because we didn't have any life outside the show. We rehearsed all day and performed at night!
BK: What CDs have you been listening to lately? What do you do to relax after a show?
KB: I love Vanessa Carlton's and Alanis Morrisette's new CD! Blink 182 is always on too. I don't do anything to relax, except maybe smoke the Crack! Seriously, after a show I can just lay down and fall right to sleep!
BK: That's how I feel when I read the notes here at haineshisway.com. Well, Kerry Butler, you've given a sparkling interview. Are there any final thoughts you'd like to share with our dear readers? We, of course, wish you all the best with Hairspray, and we hope it will be around for a very long time and that you will be rich and famous and hobnob with all the right people. Please give our best to Mr. Marc Shaiman, who is a very talented short person. Have a good show.
KB: Thank you it was lovely being interviewed by you! And to all your dear readers out there in cyber space I'd like to say this…get the hell off the computer! Go outside for goodness sakes! It's a freakin' beautiful day! Thank you.
For more information about Kerry Butler, visit her online at www.kerrybutler.net.