Now Playing
December 28, 2022:
36th Annual Robby Award Nominations by Rob Stevens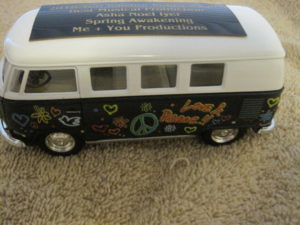 With the end of the year 2022 rapidly approaching, it is time to announce the 36th Annual Robby Award nominations. It was a transitional year as theatres started to re-open and program productions after an 18-month blackout due to Covid 19. We started the year showing our vaccination cards and wearing masks indoors. By the end of the year, mask wearing was more of an individual choice rather than a dictated one in most venues. The larger theatres—Ahmanson, Pantages, and Geffen among them—pretty much welcomed audiences all year. The 99-seat companies were slower to re-open, some still dark at 2020's end, yet there was a lively Hollywood Fringe Festival in June.
Twenty-six shows-Musicals, Dramas and Comedies-produced by 20 different entities shared the 160 nominations. Leading them all was Long Beach's International City Theatre with 24 nominations spread over four productions. Hot on their heels was Westwood's Geffen Playhouse with 23 nominations for three different productions. The Center Theatre Group-Ahmanson Theatre received 14 nominations, all for the musical Hadestown. Hollywood Pantages Theatre's Moulin Rouge The Musical was the runner-up with 12 nominations while Santa Monica's Morgan-Wixson's Wild Partyclaimed 10.
Foolish Production Co.'s Angels in America led all dramas with ten nominations. Geffen Playhouse's The Inheritance with nine nominations and their Power of Sail with seven followed. Geffen Playhouse's Trayf and International City Theatre's The Legend of Georgia McBride led the comedy nominations with seven each.
After three years of online award announcements, the Robby Awards will be returning to a live show format with lots of entertainment planned from our local musical theatre talent pool. Save the date! Sunday, February 5, 2023, at 7pm. Theatre West at 3333 Cahuenga Blvd. West in Los Angeles will be the site. Congratulations to all. Ticket information at AudienceView Professional (ovationtix.com)
TERI RALSTON AWARD FOR BEST MUSICAL
Animal Farm, A Noise Within
Brigadoon, Musical Theatre Guild
Hadestown, Center Theatre Group-Ahmanson Theatre
Housewife '52, Kick Boom Theater
Marry Me A Little, International City Theatre
Moulin Rouge The Musical, Hollywood Pantages Theatre
Wild Party, Morgan-Wixson Theatre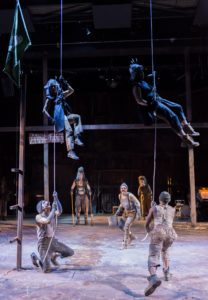 Animal Farm (photo by Craig Schwartz)
VIRGINIA CAPERS AWARD FOR BEST DIRECTOR OF A MUSICAL
Rachel Chavkin, Hadestown
Kari Hayter, Marry Me A Little
Kim Huber, Brigadoon
Julia Rodriguez-Elliott, Animal Farm
Alex Timbers, Moulin Rouge The Musical
Kristen Towers-Rowles, Wild Party
John Wuchte, Housewife '52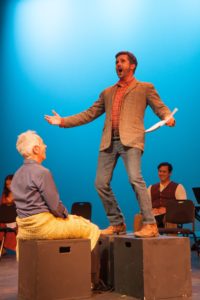 Brigadoon (photo by Stan Chandler)
MICHAEL G. HAWKINS AWARD FOR BEST ACTOR IN A MUSICAL
Nicholas Barasch, Hadestown
Will Collyer, Brigadoon
Hamilton Davis, Wild Party
Kevyn Morrow, Hadestown
Conor Ryan, Moulin Rouge The Musical
Nick Tubbs, Marry Me A Little
Valley Song (photo by Kayte Deloma)
SALLY KEMP AWARD FOR BEST ACTRESS IN A DRAMA
Amy Brenneman, Power of Sail
Belle Guillory, Valley Song
Emma Maltby, Angels in America
Jennifer Shelton, A Doll's House, Part 2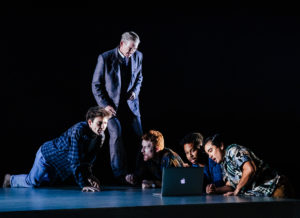 The Inheritance (photo by Jeff Lorch)
RICHARD DOYLE AWARD FOR BEST SUPPORTING ACTOR IN A DRAMA
Bill Brochtrup, The Inheritance
Dane Larsen, Angels in America
Michael Matts, Angels in America
Seth Numrich, Power of Sail
Scott Roberts, A Doll's House, Part 2
Bradley James Tejeda, The Inheritance
Tuc Watkins, The Inheritance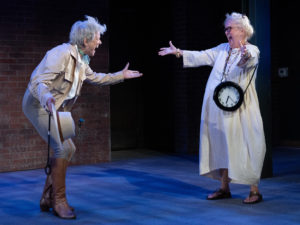 Everybody (photo by Jenny Graham)
BELINDA BALASKI AWARD FOR BEST SUPPORTING ACTRESS IN A DRAMA
Anne Gee Byrd, Everybody
Tantoo Cardinal, The Inheritance
Cherish Monique Duke, Everybody
Nicolette Ellis, A Doll's House, Part 2
Eileen T'Kaye, A Doll's House, Part 2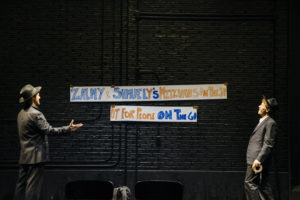 Trayf (photo by Jeff Lorch)
CAROLE COOK AWARD FOR BEST COMEDY
The Irish Curse, Pit 32 Productions
The Legend of Georgia McBride, International City Theatre
Little Theatre, Rogue Machine
Marvin's Room, Actors Co-Op
The Metromaniacs, Theatre 40
Trayf, Geffen Playhouse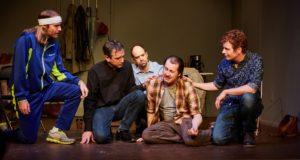 The Irish Curse
RON LINK AWARD FOR BEST DIRECTOR OF A COMEDY
Maggie Burrows, Trayf
Marjorie Hayes, The Metromaniacs
Lisa James, Little Theatre
Thomas James O'Leary, Marvin's Room
Hilary Staton, The Irish Curse
Jamie Torcellini, The Legend of Georgia McBride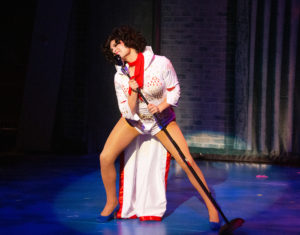 The Legend of Georgia McBride (photo by Kayte Deloma)
TOM TROUPE AWARD FOR BEST ACTOR IN A COMEDY
Alec Anderson Carrasco, The Metromaniacs
Ilan Eskenazi, Trayf
Zachary Grant, Little Theatre
Ben Hirschhorn, Trayf
Taubert Nadalini, The Legend of Georgia McBride
Henry Thompson, Beach People, City Garage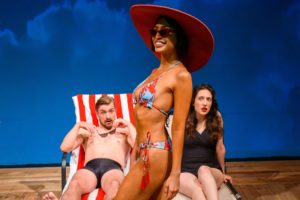 Beach People (photo by Paul M. Rubenstein)
LU LEONARD AWARD FOR BEST ACTRESS IN A COMEDY
Angela Beyer, Beach People
Francesca Casale, Marvin's Room
Jenny O'Hara, Little Theatre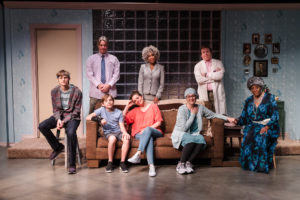 Marvin's Room (photo by Larry Sandez)
ALBERT LORD AWARD FOR BEST SUPPORTING ACTOR IN A COMEDY
Ryan Brophy, Little Theatre
John Wallace Combs, The Metromaniacs
Kasey Esser, Beach People
Dean Hermansen, Marvin's Room
Donzell Lewis, The Legend of Georgia McBride
Jeff Sumner, The Legend of Georgia McBride
Garrett Young, Trayf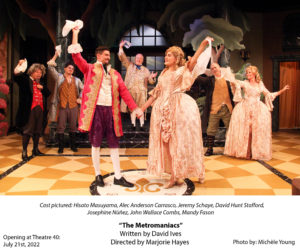 DEE CROXTON AWARD FOR BEST SUPPORTING ACTRESS IN A COMEDY
Mandy Fason, The Metromaniacs
Louisa Jacobson, Trayf
Josephine Nunez, The Metromaniacs
Marissa Ruiz, Beach People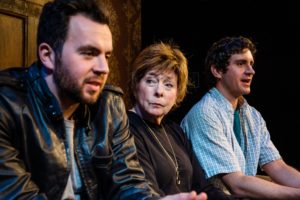 Little Theatre (photo by Jeff Lorch)
MICHAEL DEVEREAUX AWARD FOR BEST PLAYWRITING
Martin Casella, The Irish Curse
Athol Fugard, Valley Song
Paul Grellong, Power of Sail
Richard Hellesen, Eisenhower: This Piece of Ground
Velina Hasu Houston, Tea
Lindsay Joelle, Trayf
Matthew Lopez, The Inheritance
Anais Mitchell, Hadestown
Justin Tanner, Little Theatre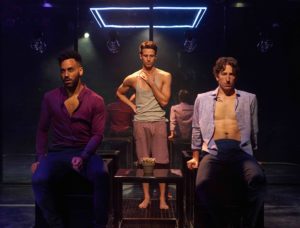 Afterglow (photo by Mati Gelman)
JOHN IACOVELLI AWARD FOR BEST SCENIC DESIGN
Nicholas Acciani, Marvin's Room
Ann Beyersdorfer, Afterglow, Midnight Theatricals
Rachel Hauck, Hadestown
JR Noman Luker, Marry Me A Little
Derek McLane, Moulin Rouge The Musical
Rachel Myers, Power of Sail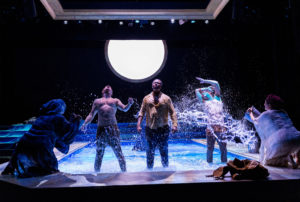 Metamorphoses (photo by Craig Schwartz)
PAULIE JENKINS AWARD FOR BEST LIGHTING DESIGN
Ken Booth, Animal Farm
Ken Booth, Metamorphoses
Derek Jones, Wild Party
Ray Jones, Angels in America
Bradley King, Hadestown
Jamie Roderick, Afterglow
Donna Ruzika, Marry Me A Little
Justin Townsend, Moulin Rouge The Musical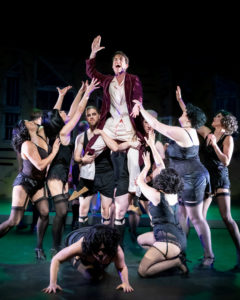 Wild Party
GARLAND RIDDLE AWARD FOR BEST COSTUME DESIGN
Angela Balogh Calin, Animal Farm
Kimberly DeShazo, The Legend of Georgia McBride
Garry Lennon, Metamorphoses
Michael Mullen, Wild Party
Ellen Thompson, Lyme Disease: The Musical
Michele Young, The Metromaniacs
Catherine Zuber, Moulin Rouge The Musical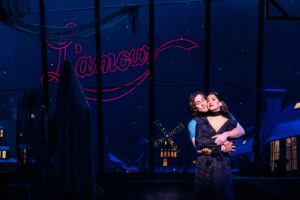 Moulin Rouge (photo by Matthew Murphy of MurphyMade)
STEVE "CANYON" KENNEDY AWARD FOR BEST SOUND DESIGN
Peter Hylenski, Moulin Rouge The Musical
Robert Oriol, Metamorphoses
Nevin Steinberg and Jessica Paz, Hadestown
Stephanie Yackovesty, Angels in America
Salvador Zamora, Everybody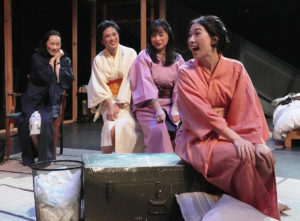 Tea (photo by Jenny Graham)
LIES AND LEGENDS AWARD FOR BEST ENSEMBLE PERFORMANCE
Geoff Elliott, Bert Emmett, Rafael Goldstein, Stanley Andrew Jackson, Nicole Javier, Trisha Miller, Cassandra Marie Murphy, Jeremy Rabb, Philicia Saunders, Deborah Strang, Sedale Threatt Jr., Animal Farm
Alexander Aguirre, Daniel Amerman, Olivia Echegaray,
Quincey Lou Huerter, Dagney Kerr, Charlie Manoukian
and Danika Masi, Housewife '52
Jacob Buras, Christopher Cornish, Tucker Futrell, Darwin Lujan and Tony Nassif, The Irish Curse
Elaine Ackles, Olivia Cordell, Hiroko Imai, Tomoko Karina
and Hua Lee, Tea
ROBBY LIVING LEGEND AWARD
Barbara Beckley
© 2001 - 2023 by Bruce Kimmel. All Rights Reserved