Now Playing
March 17, 2020:
34th Annual Robby Award Winners Announced by Rob Stevens
Due to Coronavirus, the 34th Annual Robby Awards Show scheduled for March 23 has been cancelled. Below is a relisting of all the nominees in the various categories for shows seen in 2019 with the winners highlighted in bold italics. As usual with the Robby Awards, there are a few categories that ended in a tie vote even though critic Rob Stevens is the only voter.
The Pasadena Playhouse's production of Ragtime won Best Musical as well as three other awards. The Ahmanson Theatre's production of Indecent also won four awards, including Best Drama. Best Comedy was awarded to Odyssey Theatre Ensemble's Loot which also won two other awards. A Noise Within led all producing companies with five awards spread over three of their productions—Argonautika, The Glass Menagerie and Frankenstein. The Geffen Playhouse won three awards, one each for their productions of Key Largo, Skintight and Witch. Among 99-seat theatres Celebration won two awards for its production of The Producers, Boston Court won two awards for The Judas Kiss and Antaeus Theatre Company won two awards for The Cripple of Inishmaan while two awards were given to shows at the annual Hollywood Fringe Festival.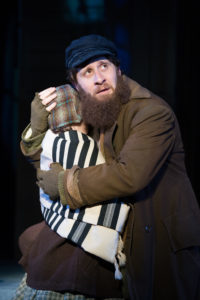 Marc Ginsburg and Iara Nemirovsky in Ragtime (photo by Jenny Graham)
TERI RALSTON AWARD FOR BEST MUSICAL
Anastasia, Hollywood Pantages Theatre
Falsettos, Ahmanson Theatre
Holiday Inn, Musical Theatre West
Jesus Christ Superstar, Hollywood Pantages Theatre
The Producers, Celebration Theatre
Danny Feldman, Ragtime, Pasadena Playhouse
Scissorhands, The Fuse Project, Rockwell Table & Stage
The Secret Garden, 3-D Theatricals
VIRGINIA CAPERS AWARD FOR BEST DIRECTOR OF A MUSICAL
Bradley Bredeweg, Scissorhands
Jennifer Clymer, Gunfight at the Not-So-OK Saloon, Trial Run Productions
T.J. Dawson, The Secret Garden
James Lapine, Falsettos
David Lee, Ragtime, Pasadena Playhouse
Michael Matthews, The Producers
Timothy Sheader, Jesus Christ Superstar
Darko Tresnjak, Anastasia
MICHAEL G. HAWKINS AWARD FOR BEST ACTOR IN A MUSICAL
James Delisco Beeks, Jesus Christ Superstar
Cameron Bond, Holiday Inn
Marc Ginsburg, Ragtime, Pasadena Playhouse
Dulé Hill, Lights Out: Nat "King" Cole, The Geffen Playhouse
Aaron LaVigne, Jesus Christ Superstar
Jonathan Matthews, Gunfight at the Not-So-OK Saloon
Dino Nicandros, The Secret Garden
Jeffrey Scott Parsons, Holiday Inn
Max Von Essen, Falsettos
MICHELLE NICASTRO AWARD FOR BEST ACTRESS IN A MUSICAL
Jade Bates, Gunfight at the Not-So-OK Saloon
Caroline Bowman, Frozen, Hollywood Pantages Theatre
Lila Coogan, Anastasia, Hollywood Pantages Theatre
Eden Espinosa, Falsettos
Tal Fox, In Trousers
Rachel Sarah Mount, The Spitfire Grill
Glory Joy Rose, The Secret Garden
Natalie Storrs, Holiday Inn
Shannon Warne, Ragtime, Pasadena Playhouse
GARY BEACH AWARD BEST SUPPORTING ACTOR IN A MUSICAL
Nick Adams, Falsettos
Nick Blaemire, Falsettos
Austin Colby, Frozen
John Colella, The Producers
Clifton Duncan, Ragtime
Michael A. Shepperd, The Producers, Celebration Theatre
Tommy Sherlock, Jesus Christ Superstar
Edward Staudenmayer, Anastasia, Hollywood Pantages Theatre
LISA ROBINSON AWARD BEST SUPPORTING ACTRESS IN A MUSICAL
Gisela Adisa, Lights Out: Nat "King" Cole
Ashley Argota, The Spitfire Grill
Liz Eldridge, Holiday Inn
Tari Kelly, Anastasia
Jennifer Knox, Holiday Inn
Michelle Lane, In Trousers
Valerie Perri, Ragtime
Jenna Rubah, Jesus Christ Superstar
Lauren Van Kurin, Earth to Karen, Hollywood Fringe Festival
DOM SALINARO AWARD FOR BEST CHOREOGRAPHY
Armando Eleazar Estrada, In Conclusion:, The Puckwit Gang
Peggy Hickey, Anastasia
Spencer Liff, Falsettos
Christine Negherbon, Holiday Inn, Musical Theatre West
Drew McOnie, Jesus Christ Superstar
Janet Roston, The Producers
ELAN MCMAHON AWARD FOR BEST MUSICAL DIRECTION
Darryl Archibald, Ragtime
Jake Anthony, In Trousers
Dennis Castellano, Holiday Inn
Allen Everman, The Secret Garden
Shawn Gough, Jesus Christ Superstar
Gregory Nabours, Scissorhands, The Fuse Project
Anthony Zediker, The Producers
Anthony Zediker, The Spitfire Grill
JOHN RAITT AWARD FOR BEST MUSIC & LYRICS
Stephen Flaherty and Lynn Ahrens, Anastasia
Zachary Bernstein, Earth to Karen
Brooke deRosa, Gunfight at the Not-So-OK Saloon, Trial Run Productions
Mark Heard, Pat Terry, Randy Vanwarmer and Tim Alderson, Salvage, Theatre Planners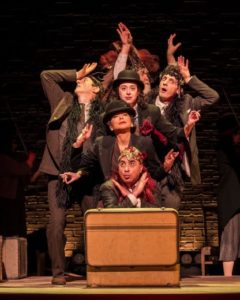 Indecent (photo by Craig Schwartz)
NAN MARTIN AWARD FOR BEST DRAMA
Argonautika, A Noise Within
Daniel's Husband, The Fountain Theatre
The Glass Menagerie, A Noise Within
In Conclusion:, The Puckwit Gang
Center Theatre Group, Indecent, Ahmanson Theatre
The Judas Kiss, Boston Court Pasadena
Ladies, Boston Court Pasadena
The Solid Life of Sugar Water, Deaf West Theatre
MARTIN BENSON AWARD FOR BEST DIRECTOR OF A DRAMA (TIE)
Geoff Elliott, The Glass Menagerie
Jessica Kubzansky, Ladies
Ben Landmesser, In Conclusion:
Simon Levy, Daniel's Husband
Michael Michetti, The Judas Kiss
Julia Rodriguez-Elliott, Argonautika, A Noise Within
Rebecca Taichman, Indecent, Ahmanson Theatre
Randee Trabitz, The Solid Life of Sugar Water
RAY STRICKLYN AWARD FOR BEST ACTOR IN A DRAMA
Bill Brochtrup, Daniel's Husband
Sam Bullington, The Vandal, Chance Theatre
Tad Cooley/Nick Apostolina, The Solid Life of Sugar Water
Tim Cummings, Daniel's Husband
Rafael Goldstein, The Glass Menagerie
Michael Manuel, Othello, A Noise Within
Dorian Missick, Two Trains Running, Matrix Theatre
Rob Nagle, The Judas Kiss, Boston Court Pasadena
SALLY KEMP AWARD FOR BEST ACTRESS IN A DRAMA
Eva Abramian, Anna Karenina
Stephanie Faracy, Sisters In Law
Tovah Feldshuh, Sisters In Law
Sandra Mae Frank/Natalie Camunas, The Solid Life of Sugar Water
Jenelle Lynn Randall, I Wanna Be Evil: The Eartha Kitt Story, Hollywood Fringe Festival
Deborah Strang, The Glass Menagerie, A Noise Within
Amanda Zarr, The Vandal
RICHARD DOYLE AWARD FOR BEST SUPPORTING ACTOR IN A DRAMA
Colin Bates, The Judas Kiss
Alan Blumenfeld, Argonautika
Jose Fernando, Daniel's Husband
Rob Foran, The Vandal
Kasey Mahaffy, The Glass Menagerie, A Noise Within
Damon Rutledge, Birdland Blue, The Robey Theatre Company
Frederick Stuart, Argonautika
Adolphus Ward, Two Trains Running
BELINDA BALASKI AWARD FOR BEST SUPPORTING ACTRESS IN A DRAMA
Bonita Friedericy, Othello
Angela Gulner, Othello
Jenny O'Hara, Daniel's Husband, The Fountain Theatre
Nija Okoro, Two Trains Running
Raquenel, The Diary of Anne Frank, Pop Up Playhouse
Erika Soto, The Glass Menagerie

Robbie Jarvis, Alex James-Phelps and Selina Woolery Smith in Loot (photo by Enci Box)
CAROLE COOK AWARD FOR BEST COMEDY
The Canadians, South Coast Repertory
The Cripple of Inishmaan, Antaeus Theatre Company
Beth Hogan, Loot, Odyssey Theatre Ensemble
The Mystery of Irma Vep, Actors Co-Op
Skintight, Geffen Playhouse
Steel Magnolias, Actors Co-Op
The Thanksgiving Play, Geffen Playhouse
Witch, Geffen Playhouse
RON LINK AWARD FOR BEST DIRECTOR OF A COMEDY
Daniel Aukin, Skintight
Carla Cackowski, The Mystery of Irma Vep
Jaime Castaneda, The Canadians
Bart DeLorenzo, Loot, Odyssey Theatre Ensemble
Michael John Garces, The Thanksgiving Play
Marti Lyons, Witch, Geffen Playhouse
Steven Robman, The Cripple of Inishmaan
Cameron Watson, Steel Magnolias
TOM TROUPE AWARD FOR BEST ACTOR IN A COMEDY (TIE)
John Allee, The Mystery of Irma Vep
Noah Bean, The Thanksgiving Play
Ron Bottitta, Loot
Brian Foyster, The Ruffian on the Stair
Harry Groener, Skintight, Geffen Playhouse
Kyle T. Hester, The Canadians
Evan Jonigkeit, Witch, Geffen Playhouse
Isaac Wade, The Mystery of Irma Vep
LU LEONARD AWARD FOR BEST ACTRESS IN A COMEDY
Elizabeth Arends, Loot, Odyssey Theatre Ensemble
Sile Bermingham, The Ruffian on the Stair
Alexandra Henrikson, The Thanksgiving Play
Abigail Marks, Diana of Dobson's
Idina Menzel. Skintight
Maura Tierney, Witch, Geffen Playhouse
ALBERT LORD AWARD FOR BEST SUPPORTING ACTOR IN A COMEDY
Will Brittain, Skintight
JD Cullum, The Cripple of Inishmaan, Antaeus Theatre Company
Nicholas Hormann, Loot
Alex James-Phelps, Loot
Robbie Jarvis, Loot
Will Von Vogt, Witch
DEE CROXTON AWARD FOR BEST SUPPORTING ACTRESS IN A COMEDY
Anne Gee Byrd, The Cripple of Inishmaan, Antaeus Theatre Company
Linda Gehringer, The Canadians
Eve Gordon, Diana of Dobson's
Abby Wilde, The Cripple of Inishmaan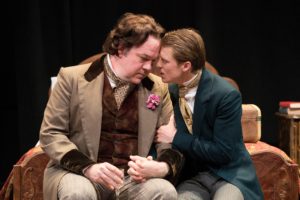 Rob Nagle and Colin Bates in The Judas Kiss (photo by Jenny Graham)
MICHAEL DEVEREAUX AWARD FOR BEST PLAYWRITING
Larissa Fasthorse, The Thanksgiving Play
David Hare, The Judas Kiss, Boston Court Pasadena
Martin McDonagh, The Cripple of Inishmaan
Jen Silverman, Witch
Kit Steinkellner, Ladies
Jack Thorne, The Solid Life of Sugar Water
Paula Vogel, Indecent
Mary Zimmerman, Argonautika
JOHN IACOVELLI AWARD FOR BEST SCENIC DESIGN
John Lee Beatty, Key Largo, Geffen Playhouse
Stephen Gifford, The Producers
Stephen Gifford, The Secret Garden
Lauren Helpern, Skintight
John Iacovelli, Two Trains Running
David Rockwell, Falsettos
BEST PROJECTION DESIGN
Matt Kinley & Fifty-Nine Productions, Les Miserables, Hollywood Pantages Theatre
Sean Nieuwenhuis, Summer The Donna Summer Musical
Aaron Rhyne, Anastasia, Hollywood Pantages Theatre
PAULIE JENKINS AWARD FOR BEST LIGHTING DESIGN
Christopher Akerlind, Indecent, Ahmanson Theatre
Howell Binkley, Summer—The Donna Summer Musical
Paul Black, The Secret Garden
Ken Booth, Argonautika
Ken Booth, The Glass Menagerie
Lee Curran, Jesus Christ Superstar
Peter Kaczorowski, Key Largo
Jared A, Sayeg, Ragtime
GARLAND RIDDLE AWARD FOR BEST COSTUME DESIGN
Kate Bergh, Ragtime
E.B. Brooks, The Producers, Celebration Theatre
Linda Cho, Anastasia
Alexandra Johnson, The Secret Garden
Terri A Lewis, Steel Magnolias
Michael Mullin, The Legend of Georgia McBride, Crown City Theatre
Christopher Oram, Frozen
Paul Tazewell, Summer—The Donna Summer Musical
STEVE "CANYON" KENNEDY AWARD FOR BEST SOUND DESIGN
Philip G. Allen, Ragtime
Keith Caggiano and Nick Lidster, Jesus Christ Superstar
Alex Hawthorn, Key Largo
Robert Oriol, Argonautika
Robert Oriol, Frankenstein, A Noise Within
Gareth Owen, Summer—The Donna Summer Musical
LIES AND LEGENDS AWARD FOR BEST ENSEMBLE PERFORMANCE
Pablo Castelblanco, Christian Gnecco Quintero, Kacie Rogers, Stefanie Rons, In Conclusion:, The Puckwit Gang
Matt Darriau, Elizabeth A. Davis, Joby Earle, Patrick Farrell, Harry Groener, Lisa Gutkin, Mimi Lieber, Steven Rattazzi, Richard Topol, Adina Verson, Indecent, Ahmanson Theatre
Meghan Andrews, Carie Kawa, Jully Lee, Tracey A. Leigh, Ladies
Jordan Kai Burnett, Carly Casey, Daisy Eagan, Dionne Gipson, Emma Hunton, Keir Kirkegaard, Natalie Masini, Ryan O'Connor, Scissorhands
Ivy Beech, Lori Berg, Deborah Marlowe, Nan McNamara, Heidi Palomino and Treva Tegtmeier, Steel Magnolias
BILLY BARNES AWARD FOR BEST CABARET PERFORMANCE
(with a cash prize from the Billy Barnes Foundation)
Sandy Bainum, Ever Blondeward, Sterling's Upstairs at the Federal
Daniel Thomas Bellusci, Brittney Bertier, Ellie Birdwell, Bruce Kimmel, Kerry O'Malley, Jenna Lea Rosen, Robert Yacko, L'Wonderful, L'Marvelous, Legrand, Kritzerland at Vitello's
Roger Befeler, Brittney Bertier, Fay DeWitt, Kim Huber, Autumn Jessel, Bruce Kimmel, Ashley Fox Linton, Abigail Thompson, Robert Yacko, April Fooled Me, Kritzerland at Vitello's
Victoria Gordon, Victoria Gordon Live at the Hollywood Fringe
SPECIAL AWARD
Props and Puppet Design
Erin Walley and Dillon Nelson, Argonautika, A Noise Within
ROBBY LIVING LEGEND AWARD
Teri Ralston
© 2001 - 2021 by Bruce Kimmel. All Rights Reserved