Now Playing
February 05, 2019:
33rd Annual Robby Awards Announced in Los Angeles by Rob Stevens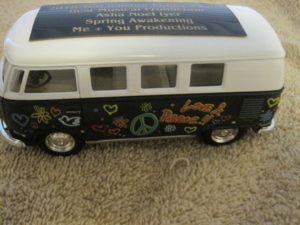 The 33rd Annual Robby Awards for Excellence in Los Angeles Area Theatre were presented by long time theatre critic Rob Stevens at a laugh and song-filled evening at Sterling's Upstairs at the Federal in North Hollywood on Monday, February 4. Linda Hart and Bruce Kimmel co-hosted the show and kept the evening, which featured 29 competitive awards and one special award, rolling along. The entertainment was interspersed among the awards with performances from their shows by nominated actors Eileen Barnett, Erica Hanrahan-Ball, Ashley Fox Linton, Cassandra Marie Murphy, Jeffrey Scott Parsons, Jenna Lea Rosen, Shaunte Tabb Massard and Robert Yacko. Former Robby Award winner Jane A. Johnston also delivered a dramatic rendition of "The Ladies Who Lunch" to end the evening. Richard Allen served as musical director and accompanist. Other previous Robby Award winners Belinda Balaski, Carole Cook, Richard Doyle, John Iacovelli, Michael Kearns and Tom Troupe also presented awards. Nonagenarian Cook had the audience roaring with laughter at her takedown of Stevens (who is the only voter) and her reactions to her husband Troupe's comments. Cook has hosted the awards show many times in the past and her patter never fails her.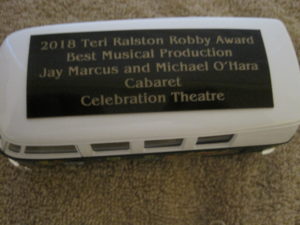 Hollywood's Celebration Theatre was the big winner of the night, taking home nine awards—five for Priscilla Queen of the Desert and four for Cabaret. Cabaret tied for Best Musical of the year with Spring Awakening, the first Los Angeles show by Me + You Productions. Hollywood's The Fountain Theatre's The Chosen was named Best Drama Production as well as receiving two acting awards while Pasadena's A Noise Within's production of Noises Off was named Best Comedy. Twenty-two productions at sixteen different Los Angeles venues won awards. The evening was highlighted by the introduction of a new trophy, replacing the standby framed certificate. The winners present seemed to enjoy receiving their mini VW van buses as their award. A complete list of the award winners follows.
MUSICALS
TERI RALSTON AWARD FOR PRODUCTION (TIE)
Cabaret, Celebration Theatre
Spring Awakening, Me + You Productions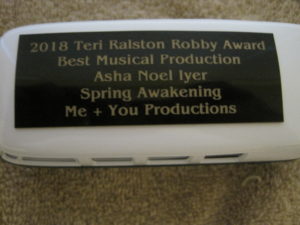 VIRGINIA CAPERS AWARD FOR DIRECTOR (TIE)
Jessica Hanna, Priscilla Queen of the Desert, Celebration Theatre
Michael Matthews, Cabaret, Celebration Theatre
MICHAEL G. HAWKINS AWARD FOR ACTOR
Alex Nee, Cabaret, Celebration Theatre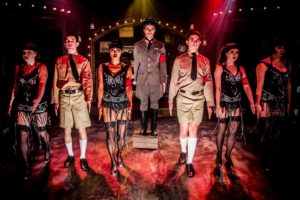 CABARET AT CELEBRATION THEATRE (photo by Matthew Brian Denman)
MICHELLE NICASTRO AWARD FOR ACTRESS
Kelly Lester, Cabaret, McCoy Rigby Entertainment
GARY BEACH AWARD FOR SUPPORTING ACTOR
Jason Graae, Nice Work If You Can Get It, Musical Theatre West
LISA ROBINSON AWARD FOR SUPPORTING ACTRESS
Stephanie Fredricks, High Society, Musical Theatre Guild
DOM SALINARO AWARD FOR CHOREOGRAPHY
Peggy Hickey, Nice Work If You Can Get It, Musical Theatre West
ELAN MCMAHAN AWARD FOR MUSICAL DIRECTION
Jennifer Lin, Priscilla Queen of the Desert, Celebration Theatre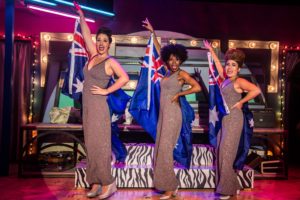 PRISCILLA QUEEN OF THE DESERT (photo by Matthew Brian Denman)
JOHN RAITT AWARD FOR MUSIC & LYRICS
Irene Sankoff and David Hein, Come From Away, Ahmanson Theatre
LIES AND LEGENDS AWARD FOR ENSEMBLE PERFORMANCE
Kevin Carolan, Harter Clingman, Nick Duckart, Chamblee Ferguson, Becky Gulsvig, Julie Johnson, Christine Toy Johnson, James Earl Jones II, Megan McGinnis, Andrew Samonsky, Danielle K. Thomas, Emily Walton, Come From Away, Ahmanson Theatre
BILLY BARNES AWARD FOR BEST CABARET PERFORMANCE
Jeffrey Scott Parsons, Comfy, Sterling's Upstairs at The Federal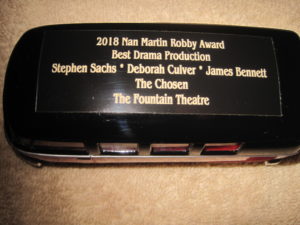 DRAMA
NAN MARTIN AWARD FOR PRODUCTION
The Chosen, The Fountain Theatre
MARTIN BENSON AWARD FOR DIRECTOR
Emma Rice, The Flying Lovers of Vitebsk, The Wallis
RAY STRICKLYN AWARD FOR ACTOR
Dor Gvirtsman, The Chosen, The Fountain Theatre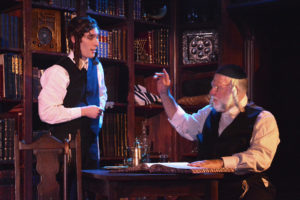 THE CHOSEN (photo by Ed Krieger)
SALLY KEMP AWARD FOR ACTRESS
Lesley Manville, Long Day's Journey Into Night, The Wallis
RICHARD DOYLE AWARD FOR SUPPORTING ACTOR
Alan Blumenfeld, The Chosen, The Fountain Theatre
BELINDA BALASKI AWARD FOR SUPPORTING ACTRESS
Anna Stromberg, Dr. Jekyll & Mr. Hyde, Blanket Fort Entertainment
MICHAEL DEVEREAUX AWARD FOR PLAYWRITING
Maureen Huskey, The Woman Who Went To Space As A Man, Son of Semele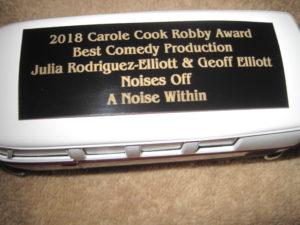 COMEDY
CAROLE COOK AWARD FOR PRODUCTION
Noises Off, A Noise Within
RON LINK AWARD FOR DIRECTOR
Geoff Elliott, Rosenkrantz and Guildenstern Are Dead, A Noise Within
TOM TROUPE AWARD FOR ACTOR
Paul Rodriguez, Steambath, Odyssey Theatre Ensemble
LU LEONARD AWARD FOR ACTRESS
Nike Doukas, Three Days in the Country, Antaeus Theatre Company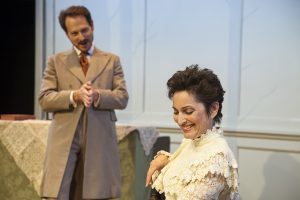 THREE DAYS IN THE COUNTRY (Geoffrey Wade Photography)
ALBERT LORD AWARD FOR SUPPORTING ACTOR
Armin Shimerman, Three Days in the Country, Antaeus Theatre Company
DEE CROXTON AWARD FOR SUPPORTING ACTRESS
Lila Hood, Bad Jews, Odyssey Theatre Ensemble
TECHNICAL
JOHN IACOVELLI AWARD FOR SCENIC DESIGN (TIE)
Pete Hickok, Priscilla Queen of the Desert, Celebration Theatre
John Iacovelli, The Little Foxes, Antaeus Theatre Company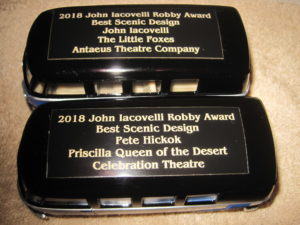 PROJECTION DESIGN AWARD
Aaron Rhyne, Love Actually Live, The Wallis
PAULIE JENKINS AWARD FOR LIGHTING DESIGN
Matthew Brian Denman, Cabaret, Celebration Theatre
GARLAND RIDDLE AWARD FOR COSTUME DESIGN
Allison Dillard, Priscilla Queen of the Desert, Celebration Theatre
STEVE "CANYON" KENNEDY AWARD FOR SOUND DESIGN
Martin Carillo, The Woman Who Went To Space As A Man, Son of Semele
SPECIAL AWARD FOR WIG DESIGN
Byron Batista, Priscilla Queen of the Desert, Celebration Theatre
SPECIAL AWARD FOR FIGHT CHOREOGRAPHY
Dane Oliver, Haiti, Theatricum Botanicum
SPECIAL AWARD FOR THE RETURN OF GOOD POLITICAL SATIRE
Joe Keenan, Everybody Rise! A Resistance Cabaret, Rockwell Table & Stage
© 2001 - 2019 by Bruce Kimmel. All Rights Reserved