Now Playing
November 15, 2021:
Head Over Heels reviewed by Rob Stevens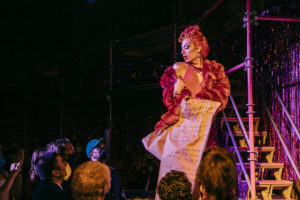 Alaska 5000 as Queen Gynecia (all photos by Jeff Lorch)
The latest jukebox musical to hit our area is Head Over Heels which re-opened the historic Pasadena Playhouse on November 14. The show played Broadway in 2018 but only lasted 188 performances and came up empty in all the theatrical awards that season. A lot of work and creative energy went into restructuring the show and turning the Playhouse into a gigantic ballroom. Co-directors/co-choreographers Jenny Koons and Sam Pinkleton have created an all new experiential production that supposedly "puts the audience in the middle of a non-stop, dance-filled joyride through magic, merriment, and mischief". However this viewer did not fall head over heels for Head Over Heels.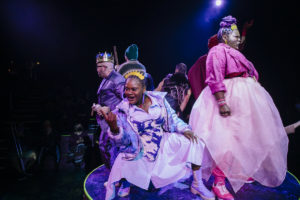 Lea DeLaria as King Basilius and his daughters Shanice Williams and Tiffnay Mann
The main problem with the show derives from the conceiver and writer of the original book Jeff Whitty and his adapter James Magruder. For their source material they chose a late 16th century play, The Arcadia, by Sir Philip Sidney which dealt with a royal family in an even earlier Greece told in Renaissance prose. This just clashes too strongly with the 1980s punk rock music by the all-girl band The Go-Gos. This is one of those jukebox musicals that should have jettisoned the book and just gone for a concert version of the 15 lively songs that really do have the "beat".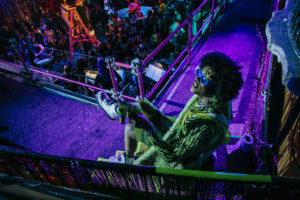 Freddie as The Oracle
That said, Head Over Heels is still a fun outing. Scenic designer David Meyer has truly transformed the Playhouse into a totally different venue with scaffolding, ramps and elevated walkways. The audience is seated either on the stage or in the balcony, with the former audience area converted into a ballroom where many ticketholders can mix and boogie with the cast during the show, seeing who can make a bigger fool of themselves. But it's all in the spirit of inclusive fun. Stacy DeRosier has created a light show spectacular and Hahnji Jang has created some colorful and offbeat costumes. The five-piece on the dance floor band is led by Laura Hall on keyboards and they sound amazing thanks to the show's sound designers Danny Erdberg and Ursula Kwong Brown. Kris Kukul provided the music direction. And a shout out to hair and wig designer Christopher Enlow.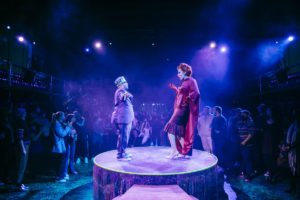 Lea DeLaria and Alaska 5000
The cast of eight (Alaska 5000, Lea DeLaria, Yurel Echezarreta, Freddie, Tiffany Mann, George Salazar, Emily Skeggs and Shanice Williams) often come close to blowing the roof off the historic building; all displaying great voices making the musical numbers really soar. Alaska 5000 has a strong voice in her numbers and "Heaven Is a Place on Earth" really works as a seduction number for her and DeLaria. Freddie wows the audience with "Vision of Nowness" and Tiffany Mann shakes the rafters with her rendition of "How Much More". Acting talent is not really a priority with these paper-thin caricatures of characters, but again Alaska 5000 dazzles with her deadpan and deadly deliveries of dagger-like bon mots.

Tickets at pasadenaplayhouse.org or by calling 626-356-7529
© 2001 - 2021 by Bruce Kimmel. All Rights Reserved