Now Playing
May 19, 2023:
The Book of Will reviewed by Rob Stevens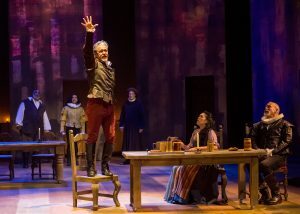 (all photos by Craig Schwartz)
William Shakespeare died in 1616. At that time, there really were no definitive printed versions of any of his three dozen plays. Two of Shakespeare's fellow King's Men players gathered and printed what has become known as The First Folio in 1623. If they had not done so at the time, it is thought most of Shakespeare's actual words would have been lost. Today,400-plus years after his death, he is still the most produced playwright the world over. Playwright Lauren Gundersen has written The Book of Will, a sly comedy that shows how that folio may have come into being. In a rare departure from producing revivals of classic plays Pasadena's classical theatre group, A Noise Within, is presenting a play written in 2017. It may eventually become a classic.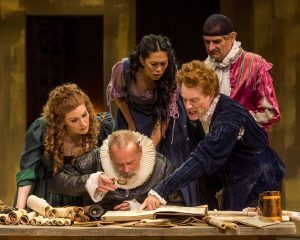 The play begins a few years after Shakespeare's death with a very mis-quoted soliloquy by an actor playing Hamlet. Adjourning to a nearby tavern, Shakespeare's fellow King's Men Henry Condell (Jeremy Rabb), John Heminges (Geoff Elliott) and Richard Burbage (Frederick Stuart) bemoan what has befallen the legacy of their departed friend. They are joined by Hemingses' wife Rebecca (Deborah Strang) and daughter Alice (Nicole Javier). Burbage. who played most of the main roles over the years, delights his audience by reciting lines from some of his memorable roles at The Globe. The trio make a pact to gather and publish all of Shakespeare's plays thereby cutting out the unauthorized and bowdlerized versions appearing at other theatres. Unfortunately, Burbage soon dies, taking with him his memory of most of the dialogue, but the printing of the plays must go on. Joined by friends and family, they begin gathering bits and pieces of all the plays, aided immensely by a starstruck editor (Kasey Mahaffy). They must deal with an unscrupulous blind printer (Stuart again) who has the rights to half the plays, whose son (Stanley Andrew Jackson) promises to be loyal to the bard and not his father.
There is more tragedy and drama mixed in with the comic shenanigans (mostly from Mahaffy and Alex Morris as the curmudgeonly Poet Laureate Ben Johnson) but finally The First Folio does get published, saving Shakespeare's plays for future generations. Rabb also gets some laughs with his actor Condell always heartily championing Pericles and getting no enthusiastic response. Director Julia Rodriguez-Elliott has gotten strong performances from her cast. Angela Balogh-Calin has done her usual superb work on the period costumes and Ken Booth has lighted everything perfectly. Frederica Nascimento's impressive scenic design contains five enormous doors, seemingly heralding a farce will take place. The Book of Will does not reach farcical heights but is an enjoyable comic history lesson and a love letter to the theatre and those who work in it.


www.anoisewithing.org
© 2001 - 2023 by Bruce Kimmel. All Rights Reserved