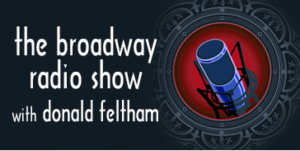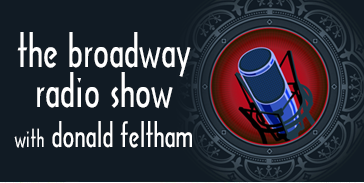 THE BROADWAY RADIO SHOW with Donald Feltham is a radio program presented right here on Haines His Way by Kritzerland.
The Newest Show: Show Tunes on The Air  with June, Jo and Kay!

CHECK OUT THE ARCHIVES!
The Interview – MAURY YESTON chats about Maury Sings Yeston

Purchase Anything Can Happen In The Theater
MARK ROBINSON'S 12 Favorite Show Tunes!

Purchase Mark's Book – Musical Misfires
A Chat With GRACE McLEAN and In The Green

REVIVING THE PAST with PS Classics

Visit PS Classics to Purchase these Recordings
DIVA Shout Out! – DOLORES GRAY

Purchase the new Dolores Gray singles collection from Stage Door Records!
New Releases for Fall 2020!

Use the Purchase Links Below:
Sarah Stiles – You Can Ukulele With Me
Sarah Maria Sun – Killer Instincts
Katherine Jenkins – Cinema Paradiso
Amanda Holden – Songs From My Heart
Forbidden Broadway: The Next Generation
Clifton Davis – Never Can Say Goodbye
Kenny Washington – What's The Hurry
THOMAS HISCHAK chats about his new book THE MIKADO TO MATILDA

Purchase The Mikado to Matilda
Putting It Together – SWEET CHARITY

SETH MacFARLANE – Unexpected Crooner

Purchase Seth's Latest – Great Songs from Stage and Screen
MARK A. ROBINSON chats about his new book MUSICAL MISFIRES
CLOSED!  Covers from Great Broadway Flops with David Levy
SANDY WILSON…after The Boy Friend
Putting It Together – Annie Get Your Gun
By The Beautiful Sea
The Lyrics of HOWARD ASHMAN
Purchase Howard Sings Ashman here!
DIVA Shout Out! – CAROLINE O'CONNOR
Putting It Together – Little Shop Of Horrors
Purchase the recent Off-Broadway Cast Recording here!
From The Vaults – The Musicality of JAY Records
Check out the Musicality Series here!
ROBBIE ROZELLE – Songs From Inside My Locker
Purchase Songs From Inside My Locker
UNCOVERING OPERETTAS WITH DAVID LEVY
KRIS KUKUL chats about The Liz Swados Project (and some Beetlejuice too!)
Purchase The Liz Swados Project
Putting It Together – NINE
JEFFREY JOHNS is here to talk about his new film STILL WAITING IN THE WINGS!
Find out more about STILL WAITING IN THE WINGS here
JANET DACAL chats about her new recording MY STANDARDS
Watch Janet sing Omar Sharif from THE BAND'S VISIT
MARTY THOMAS on his newest CD "Slow Dancing With A Boy"
Purchase SLOW DANCING WITH A BOY
A Chat With GEORGIA STITT about her new album A Quiet Revolution
The Interview – MARY BRIDGET DAVIES on Stay With Me
Check out Mary Bridget's Website
Purchase STAY WITH ME at Broadway Records
Watch Mary Bridget's Living Room Concert on the Janis Joplin Facebook Page
Purchase the audio book of LOVE, JANIS featuring Mary Bridget
JESSE SWIMM chats about the New York shutdown and shares his 12 Favorite Show Tunes!
Chatting with Joshua Hinck and Scott Wasserman about LOSING MY MIND, A Sondheim Disco Fever Dream
Donate to the Broadway Cares Emergency Fund
The Interview: MICHAEL KANTOR chats about the 3rd edition of BROADWAY – The American Musical
Purchase BROADWAY – The American Musical
WARREN HOFFMAN and The Great White Way
If you have comments or questions about The Broadway Radio Show, you can email Donald directly at feltham61@yahoo.com
Check back again for shows filled with many special guests, lots of showtunes, and quite a few surprises up our sleeves!