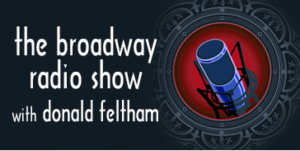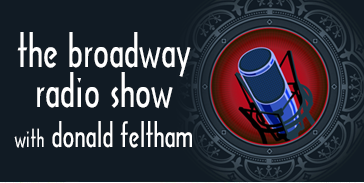 THE BROADWAY RADIO SHOW with Donald Feltham is a radio program presented right here on Haines His Way by Kritzerland.
The Newest Show: A MUSICAL TRAVELOGUE
CHECK OUT THE ARCHIVES!
Putting It Together – NINE
JEFFREY JOHNS is here to talk about his new film STILL WAITING IN THE WINGS!
Find out more about STILL WAITING IN THE WINGS here
JANET DACAL chats about her new recording MY STANDARDS
Watch Janet sing Omar Sharif from THE BAND'S VISIT
15 NEW RELEASES FOR SPRING 2020
Purchase SHE IS RISEN Volume 1
Purchase WE AREN'T KIDS ANYMORE
Purchase LENA HALL – The Villa Satori
Purchase LINDA LAVIN – Love Notes
Purchase ANYTHING CAN HAPPEN IN THE THEATER
Purchase BROADWAY BOUNTY HUNTER
Purchase BOBBY CONTE THORNTON – Along The Way
Purchase SIOBHAN DILLON – One Voice
Purchase RAGS PARKLAND SINGS SONGS OF THE FUTURE
MARTY THOMAS on his newest CD "Slow Dancing With A Boy"
Purchase SLOW DANCING WITH A BOY
A Chat With GEORGIA STITT about her new album A Quiet Revolution
The Interview – MARY BRIDGET DAVIES on Stay With Me
Check out Mary Bridget's Website
Purchase STAY WITH ME at Broadway Records
Watch Mary Bridget's Living Room Concert on the Janis Joplin Facebook Page
Purchase the audio book of LOVE, JANIS featuring Mary Bridget
VERA LYNN at 103 – Celebrating Decades of Song
JESSE SWIMM chats about the New York shutdown and shares his 12 Favorite Show Tunes!
Chatting with Joshua Hinck and Scott Wasserman about LOSING MY MIND, A Sondheim Disco Fever Dream
Donate to the Broadway Cares Emergency Fund
BEING ALIVE – Sondheim at 90 & Company at 50
New Releases for Winter 2020
Purchase 9 TO 5 London Cast Recording
Purchase MATTHEW MORRISON Disney Dreamin'
Purchase MORGAN JAMES Memphis Magnetic
Purchase STARRY Studio Cast Recording
Purchase PLATINUM GIRLS Studio Cast Recording
Purchase JANET DACAL My Standards
Purchase JAMES TAYLOR American Standard
Purchase EMOJILAND Off-Broadway Cast Recording
The Interview: MICHAEL KANTOR chats about the 3rd edition of BROADWAY – The American Musical
Purchase BROADWAY – The American Musical
UNMASKED – the Andrew Lloyd Webber Covers with David Levy
Check out UNMASKED at Papermill Playhouse
WARREN HOFFMAN and The Great White Way
The Interview – ROB BERMAN Chats About The New Yorkers and the Upcoming Encores! Season
Check out the ENCORES! 2020 Season
From The Vault – The Voices of Ghostlight Records
Check out these recordings at GHOSTLIGHT RECORDS!
A Celebration of JERRY HERMAN
TOP TEN CAST RECORDINGS OF 2019
TOP TEN VOCALIST RECORDINGS OF 2019
MY FAVORITE MUSICALS OF THE 2010'S
KIMMEL on BAGLEY: Bruce Kimmel chats about the Ben Bagley CD reissues.
Buy the Ben Bagley CDs at KRITZERLAND!
Follow us on Twitter @Bway_Radio_Show
If you have comments or questions about The Broadway Radio Show, you can email Donald directly at feltham61@yahoo.com
Check back again for shows filled with many special guests, lots of showtunes, and quite a few surprises up our sleeves!