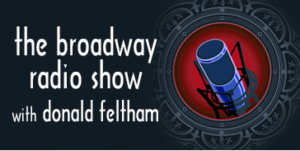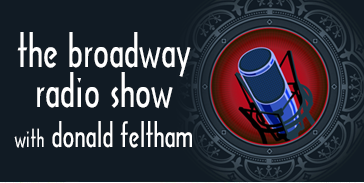 The Broadway Radio Show with Donald Feltham is a radio program presented right here on Haines His Way by Kritzerland.
The Newest Show: THE PROM: Celebrating the Release of the Novel!
Purchase the Novel of THE PROM
Purchase the AudioBook of THE PROM
Purchase the Cast Recording of THE PROM
CHECK OUT THE ARCHIVES!
MUSICAL DREAMS: Songwriters Moving from Popular Music to Musical Theatre
From the Vault: The Voices of PS CLASSICS
THE ROYAL FAMILY OF MUSICALS
A BAKER'S DOZEN: WAITRESS and She Used To Be Mine
Remembering SID RAMIN & MARTIN CHARNIN
Regional Theatre Spotlight: Bay Area Musicals and a chat with Scott DiLorenzo about Hairspray
New Releases for Summer 2019
Purchase THE VIVINO SISTERS: DNA
Purchase CASSIDY JANSON: CASSIDY
Purchase 2019 TONY AWARDS SEASON
Purchase LAURA BENANTI: SONGS FROM MY FAIR LADY
JOHN MILLER chats about his CD "Stage Door Johnny"
KIMMEL on BAGLEY: Bruce Kimmel chats about the Ben Bagley CD reissues.
Buy the Ben Bagley CDs at KRITZERLAND!
A chat with the delightful OLIVIA NICE, star of 42nd Street Moon's production of ONCE
NO ONE CALLED AHEAD: Interviews with Creative Team and Cast of this New Streaming Musical!
No One Called Ahead Official Website
Remembering DORIS DAY
RETURN OF THE COVERS with David Levy!
TONY'S BEST MUSICALS: Part Two, 1985 to 2018
MORE BEAUTIFUL MUSIC OF BROADWAY
TONY'S BEST MUSICALS: Part One, 1949 to 1984
MUSICAL MENAGERIE
New Releases for Spring 2019
Purchase MAX VON ESSEN: Call Me Old Fashioned
Purchase JACKIE EVANCHO: The Debut
Purchase AIN'T TOO PROUD: Broadway Cast Recording
Purchase JOHN OWEN-JONES: Spotlight
Purchase CYRILLE AIMEE: Move On – A Sondheim Adventure
Purchase TINA – THE TINA TURNER MUSICAL: London Cast Recording
Purchase MICHAEL BALL: Coming Home To You
Purchase THE CHER SHOW: Broadway Cast Recording
DAVID YAZBEK'S Musical Theatre
Show Tunes of the Gods
Remembering Record Producer HUGH FORDIN
Celebrating WOMEN'S HISTORY MONTH
The Interview: ANDREW LIPPA chats about Unbreakable
The Musical World Of ANDREW LIPPA
NEW RELEASES: Winter 2019
Purchase LUCY THOMAS: Premiere
Purchase EDEN ESPINOSA: Revelation
Purchase SONGS FOR A NEW WORLD
Purchase MATT CROKE: Only Dreaming
Purchase BULLDOZER: The Ballad of Robert Moses
Putting It Together: FOLLIES
Purchase FOLLIES 1971 Broadway
Purchase FOLLIES 1998 Papermill Playhouse
Purchase FOLLIES 2011 Broadway Revival
Listen to FOLLIES 2017 London National Theatre on Spotify
Follow us on Twitter @Bway_Radio_Show
If you have comments or questions about The Broadway Radio Show, you can email Donald directly at feltham61@yahoo.com
Check back again for shows filled with many special guests, lots of showtunes, and quite a few surprises up our sleeves!