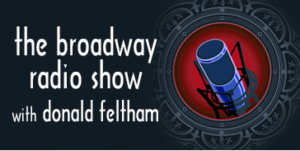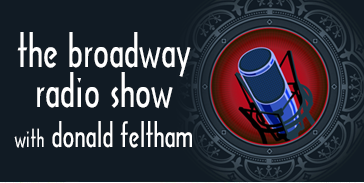 THE BROADWAY RADIO SHOW with Donald Feltham is a radio program presented right here on Haines His Way by Kritzerland.

NEW RELEASES for SPRING 2022
Purchase & Streaming Links:
Kristina Koller – Get Out of Town
16 Stories: New American Musicals
Terron Brooks – The Soul of Broadway
Back to the Future – London Cast

BROADWAY'S GILDED AGE
MARK EDEN HOROWITZ on the Letters of Oscar Hammerstein II
Pre-order The Letters of Oscar Hammerstein II
ROBERT BANNON's 12 Favorite Show Tunes!
Watch The Roundtable on YouTube
A Conversation with MATT GOULD
Links:
Purchase the Witness Uganda Cast Recording
Lempicka at La Jolla Playhouse
RICHARD SHELTON: An Englishman in Love in LA
PHIL GEOFFREY BOND Unplugs Sondheim
Visit the Sondheim Unplugged website
FABULOUS FLOPS of the 1980's with MARK ROBINSON
Purchase Mark's Books:
Van Hughes & Nick Blaemire Blast Off with SPACE DOGS!
Out Of The Dark with MELISSA ERRICO
Discover & Purchase Out of the Dark: The Film Noir Project
Douglas Waterbury-Tieman and Scott Wasserman tell the tale of JOHNNY & THE DEVIL'S BOX
SPENCER DAY Sings Broadway
Purchase Broadway By Day on Amazon
NEW RELEASES for Winter 2022
Purchase Links:
Dawn Derow – My Ship: Songs from 1941
Jim Caruso & Billy Stritch – The Sunday Set
Michael Feinstein – Gershwin Country
Melissa Errico – Out of the Dark: The Film Noir Project
Ballad of Dreams with ALLYSON HERNANDEZ
A chat with DANIEL GOLDSTEIN
KEVIN WINKLER'S 12 Favorite Show Tunes!
Purchase Kevin's Book on the Musicals of Tommy Tune!
Remembering BEEGIE ADAIR
The Musical World of LESLIE BRICUSSE
The Ella Fitzgerald Song Books
The Best of 2021: Best of the Rest
The Best of 2021: TOP TEN CAST RECORDINGS
Purchase Links:
The Best of 2021: TOP TEN VOCALIST RECORDINGS
Purchase Links:
Samantha Barks – Into The Unknown
Laura Bell Bundy – Women of Tomorrow
Maxine Linehan – What Would Petula Do?
Karen Mason – Let The Music Play
Jennifer Nettles – Always Like New
Kyle Taylor Parker – Broadway Soul, Vol. 2
Veronica Swift – This Bitter Earth
Eleri Ward – A Perfect Little Death
A Conversation with Cellist MAIRI DORMAN-PHANEUF
Purchase & Listen to Mairi's Album
TODD ALMOND wants A Pony for Christmas!
Check out Todd's website & buy A Pony for Christmas
When The Lights Are Bright Again with ANDREW NORLEN
Purchase WHEN THE LIGHTS ARE BRIGHT AGAIN and learn more here
Catching Up With KAREN MASON
Purchase Karen's New Album – Let The Music Play
BARRY SINGER on 40 Plus Years of Musical Theater

Purchase Barry's Book at Amazon
COVERING BROADWAY 1950's STYLE with DAVID LEVY
Check out the MUPPETURGY podcast!

MAXINE LINEHAN answers the question What Would Petula Do?
Check out Maxine's site and buy the new album!
ELERI WARD chats about Sondheim & her new album A PERFECT LITTLE DEATH

Riding the Cyclone with KEVIN McCOLLUM & JACOB RICHMOND!

Follow The Broadway Radio Show on Twitter
If you have comments or questions about The Broadway Radio Show, you can email Donald directly at feltham61@yahoo.com
Check back again for shows filled with many special guests, lots of showtunes, and quite a few surprises up our sleeves!