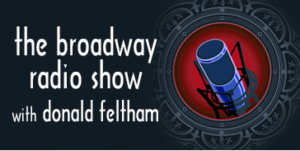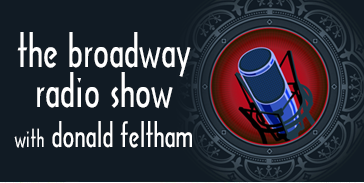 THE BROADWAY RADIO SHOW with Donald Feltham is a radio program presented right here on Haines His Way by KRITZERLAND!

CHRISTINE EBERSOLE on Life, Love, and Family

DIVA Shout Out! – JUDY KUHN
MUSICAL MISSIVES: Show Tune Correspondence
A Conversation with CELIA BERK
Stream or Purchase Now That I Have Everything
Putting It Together: GENTLEMEN PREFER BLONDES
Musical Director DAVID O chats about Mr. Saturday Night and more!
Get the Mr. Saturday Night cast recording
Get the Soft Power cast recording
New Releases for Summer 2022 Part Two: Cast Recordings
Purchase & Streaming Links:
New Releases for Summer 2022 Part One: Vocalist Recordings
Purchase & Streaming Links:
Maureen Taylor – Cosmic Connections
Anya Turner & Robert Grusecki – In This Raggedy Time
Debbie Wileman – I'm Still Here
Charles Billingsley – The Shadow of Your Smile
Mark Tremonti – Tremonti Sings Sinatra
ELIZABETH WARD LAND sings Linda Ronstadt
SARAH sings BROADWAY
ANDREW LYNFORD's 12 Favorite Show Tunes
Check out Andrew's radio show!
Tony Winning Producer JIM KIERSTEAD chats about Broadway & More!
Check out Kierstead Productions
Watch the Trailer for Borrowed
Fabulous Flops of the 1990's with Mark Robinson
Purchase Mark's Books:
LOVE QUIRKS with Seth Bisen-Hersh and Brian Childers
Purchase the LOVE QUIRKS Cast Recording
MARGARET HALL chats about GEMIGNANI
Purchase Gemignani: Life and Lessons from Broadway and Beyond
The STAGE ACTOR'S HANDBOOK with Michael Kostroff & Julie Garnye
Purchase The Stage Actor's Handbook
JEFF HARNAR: His Life in Sondheim's Words
STREISAND sings SHOW TUNES
MARK EDEN HOROWITZ on the Letters of Oscar Hammerstein II
The Letters of Oscar Hammerstein II
ROBERT BANNON's 12 Favorite Show Tunes!
Watch The Roundtable on YouTube
A Conversation with MATT GOULD
Links:
Purchase the Witness Uganda Cast Recording
Lempicka at La Jolla Playhouse
RICHARD SHELTON: An Englishman in Love in LA
PHIL GEOFFREY BOND Unplugs Sondheim
Visit the Sondheim Unplugged website
Van Hughes & Nick Blaemire Blast Off with SPACE DOGS!
Out Of The Dark with MELISSA ERRICO
Discover & Purchase Out of the Dark: The Film Noir Project
Douglas Waterbury-Tieman and Scott Wasserman tell the tale of JOHNNY & THE DEVIL'S BOX
SPENCER DAY Sings Broadway
Purchase Broadway By Day on Amazon
COVERING BROADWAY 1950's STYLE with DAVID LEVY
Check out the MUPPETURGY podcast!

Follow The Broadway Radio Show on Twitter
If you have comments or questions about The Broadway Radio Show, you can email Donald directly at feltham61@yahoo.com
Check back again for shows filled with many special guests, lots of showtunes, and quite a few surprises up our sleeves!